MECHS Class of 2024 and New Student Orienation
Tara Mager
Thursday, June 25, 2020
Class of 2024 AND New Student Orientation
At Meridian Early College High School we are committed to providing the knowledge and resources necessary to ensure all students will be prepared for post-secondary success.
To ensure all NEW students to Meridian Early College High School have the skills to navigate the transition with confidence we are excited to provide a program to become familiar with MECHS.
NEW STUDENT AND FRESHMAN ORIENTATION
Monday, August 24th from 8:30AM-2:30PM*
Busing is provided. Coaches are aware athletes will not be attending AM practices on these dates and have arranged practice dates.
Register at: tinyurl.com/mechsorientation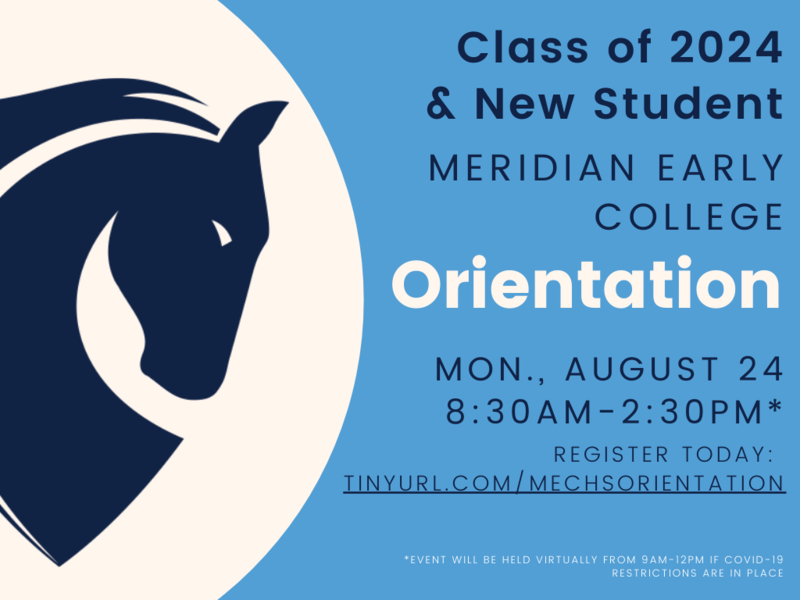 Our theme is centered on creating a "Community of Learners". MECHS orientation uses a team approach to highlight the skills and knowledge essential for success as a high school student at Meridian Public Schools. MECHS faculty and student mentors will lead learners through various topics identified to promote a positive transition including: organization, time management, communication skills, accessing technology, and responsibility. This program will offer students the opportunity to build positive partnerships and relationships, while gaining an understanding of high school expectations.
*In the event COVID-19 restrictions prevent face-to-face orientation, a virtual option will occur on the same date from 9AM-12PM.
We would also like to invite you to Meridian Early College High School Open House on Monday, August 24, 6PM. This program is designed to help parents and family members connect with faculty and staff to discuss the necessary information to start the school year off right!
It truly takes a partnership between the family and school to help children learn successfully. We look forward to working together to provide a positive educational experience.
Kind Regards,
MECHS Orientation Team