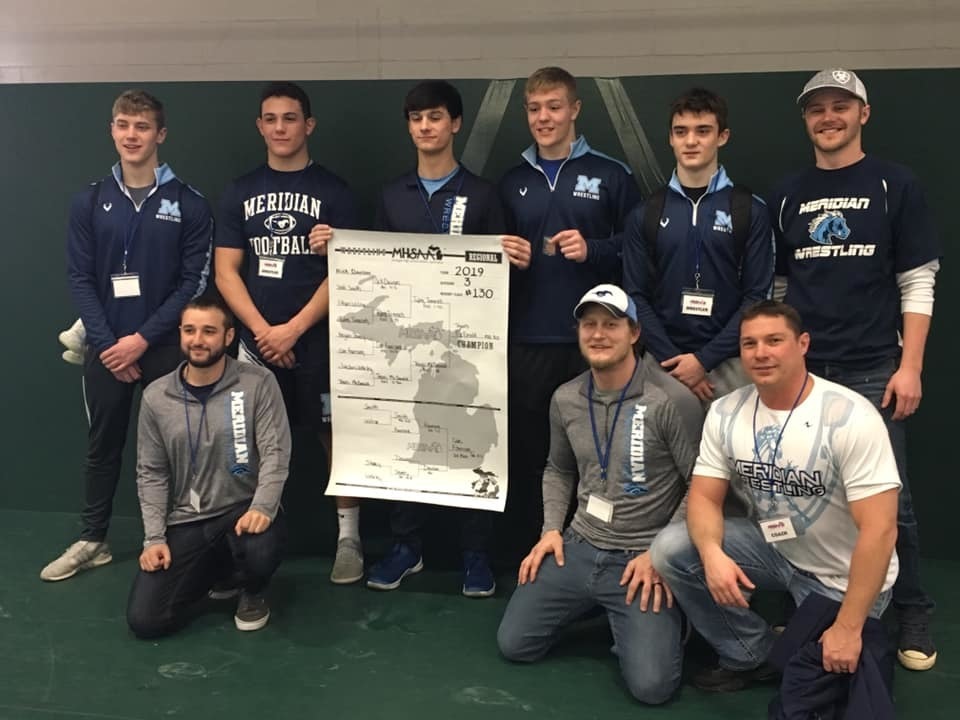 What a weekend for Meridian Athletics!
Noah Kent
Monday, February 18, 2019
This weekend was a great showing for Meridian Athletics! Boys Basketball, Wrestling, Bowling, and Competitive Cheer all had exciting times!
BOYS BASKETBALL
The varsity team beat Farwell with a score of 77-38. Gabe Brady had 22 points, 7 rebounds and 2 blocks; Lucas Lueder had 16 points, 7 rebounds, 4 assists and 2 steals; Brett Barriger had 10 points, 10 assists and 4 steals. The team is now 16-1 overall; 12-0 in the Jack Pine.
WRESTLING:
Congratulations to the following wrestlers that will be advancing to the Division 3 individual state finals on March 1 & 2. Travis McDonald – regional 1st place finisher; 2nd place finisher – Brady Solano; 3rd place qualifiers – Nick Dodman and Matt Person; and Jimmy Miron, who qualified, finishing 4th. Best of luck.
BOWLING:
Congratulations to the girls on a good season as they wrapped it up at the JPC singles. The girls worked through some tough breaks and had a good day. They were paced by Emma VanDongen who finished 8th with games of 200,151, & 150. Jamison Piper finished 17th with games of 145 and 143. Kristen Holsworth had a 146 game and Sharon Moritz had a 144 Emma earned 2nd Team All Conference honors and Jamison earned an Honorable Mention. Great job ladies.
Congratulations to the boys team on some fantastic bowling today! Kyle Nohel finished 2nd Team All Conference with an 8th place finish. Chris Schalk and Jarrod Wirth each received an Honorable Mention. Chris finished tied for 11th and Jarrod in 13th. Next week regionals in Cheboygan.
COMPETITIVE CHEER
The Competitive cheer team are District Champions! Performing Saturday at Vassar High School the team competed against 13 other D4 teams to take the championship. With a season high score in R1 and R2 of 233.40 and 228.38 they out scored all 13 teams. R3 also out scored the other teams with at 314.20 score for Meridian. They still hold a R2 record score of all teams for last season and so far this season in Division 4. With a final score of 775.98, also a season high, the championship was sealed for the team. They rank #1 in the state for all three cheer rounds. The team will travel to Mason this Saturday for regional play with a start time of 6:00 PM.
Make sure to come out and see our students in action during an upcoming competition. See the schedule of events here: https://docs.google.com/spread...
Tues, 02/19 9th grade, JV & varsity boys basketball – at Shepherd 4:30 pm
JV and varsity girls basketball – at home – vs Shepherd 6:00 pm
Weds, 02/20 9th grade, JV & varsity boys basketball – at home – vs Roscommon 4:30 pm
Tri Valley Titan Hockey – at Polar Palace 5:00 pm
Wrestling – at Gladwin – vs Farwell & Roscommon 6:00 pm
Thurs, 02/21 JV & varsity girls basketball at home – vs Harrison 6:00 pm
It is a great day to be a Mustang!