Meridian Public Schools is hiring! See the attached flyer for a list of positions. Interested in applying? Visit
https://www.merps.org/page/human-resources
to find the application and a list of frequently asked questions. #ReachHigher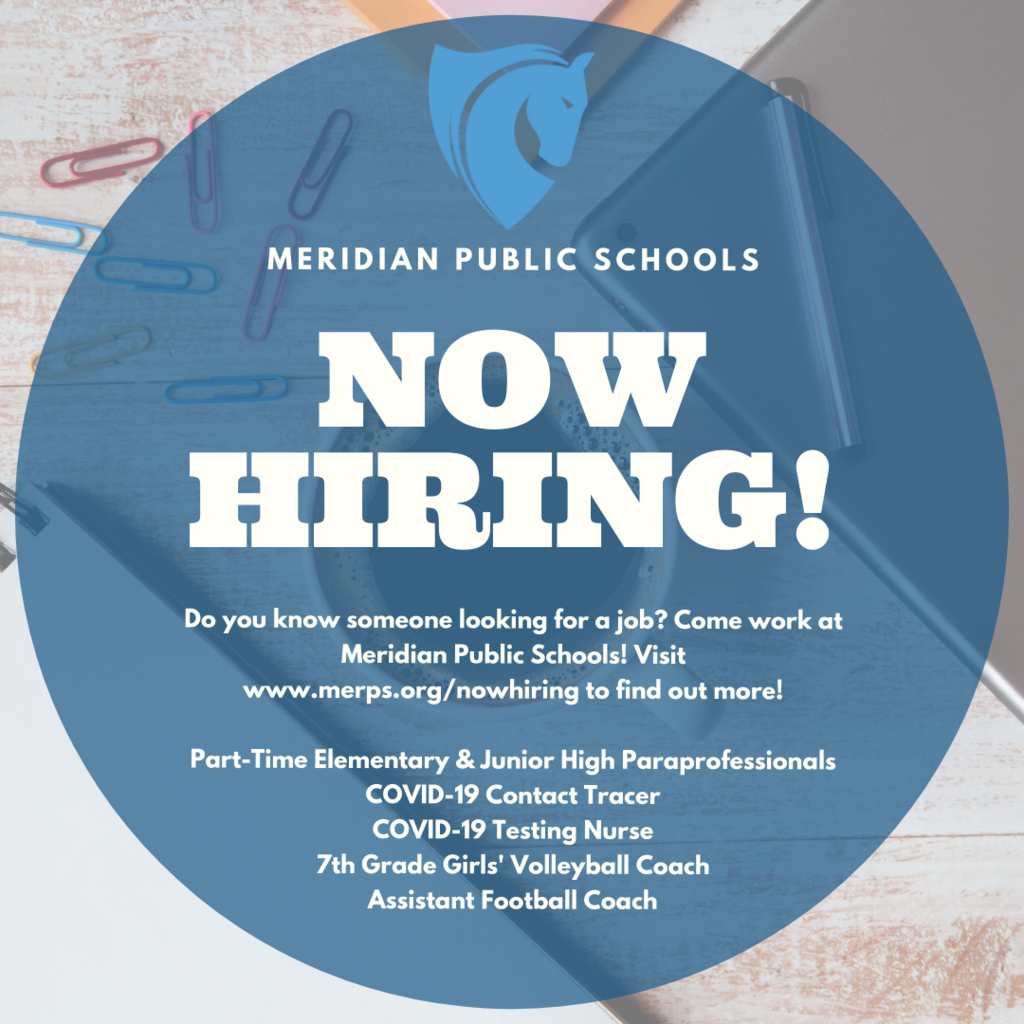 Sanford Elementary Early Childhood Center will be CLOSED today, Wednesday, August 11th due to a power outage.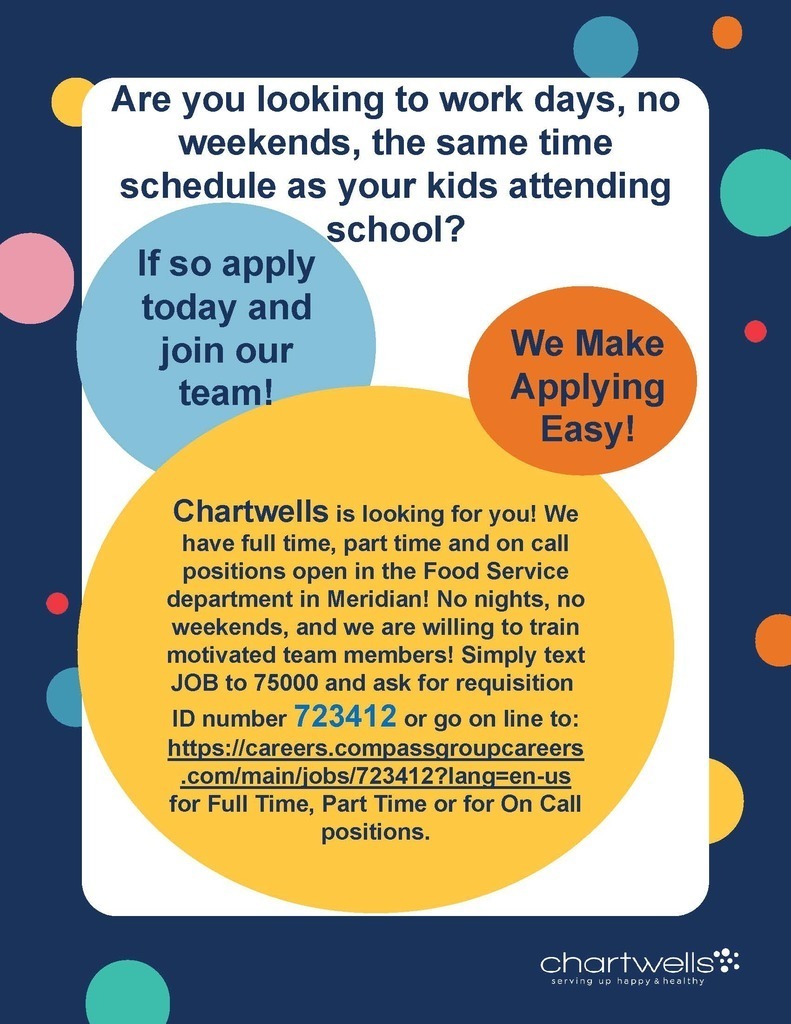 Hello Mustangs, This is an update with transportation for this school year. We will need a request for transportation filled out if any of the following has occurred: · If your family has moved · If your student was virtual last year and are attending face to face this year · If there are any new changes for this year. If you do not have any changes to your student's transportation for this year, a request form is not needed. Completed forms can be emailed to
transportation@merps.org
, or dropped off to the Administration Office, Monday through Thursday from 8am to 4pm. Completed forms are due to the Transportation Office no later than 3pm on Wednesday, August 25th to ensure your student is placed on a bus for the first day of school. A copy of the transportation request form can be found on our website, or at
https://core-docs.s3.amazonaws.com/documents/asset/uploaded_file/354124/Request_for_Transportation_new.pdf
If you have any questions, please contact the Transportation Office at 989-687-3249.
Good Afternoon Mustangs, Tonight's food pickup from 4-6 has been cancelled, as all food has been handed out. We will see you next week. Thank you
Good Morning Mustangs! This is a reminder that meal pickup is today, Tuesday 7/13, from 9-11am and 4-6pm at Meridian Early College High School. Meals are FREE to anyone 18 and younger. Students do not have to attend Meridian to receive the meals. Stop by and see our food service staff as they serve up happy and healthy meals to you! Thank you
Check out the openings in our Food Service Department! See the attached flyer for more details. #ReachHigher #JobPosting
Meridian Public Schools will be closed today, Friday April 9th, due to a power outage.
We are CLOSED on Friday, April 2, 2021. Have a wonderful weekend!
REMINDER: Schedules for next week are due by 6:00 pm today. If you did not turn yours in before Spring Break, you can call 687-3455 or email Julie at
Julie.sheets@merps.org
. Thanks!
REMINDER: There is no breakfast or hot lunch during Spring Break. Meals return on Tuesday, April 6, 2021.
REMINDER: Schedules for Spring Break are due by today at 6:00 pm. Please be sure to turn yours in, call 687-3455 or email Julie at
Julie.sheets@merps.org
. Thanks!
Good Morning, All evening activities occurring after 5:30pm this evening (February 4th, 2021) have been cancelled. There will be no ski club tonight.
Childcare Parents: You can now access the 2020 tax receipt in your Sandbox parent portal. Please stop in the office or give us a call if you need help finding it. Thanks!
Meridian Public Schools is closed today due to icy roads. Please call us at 687-3455 ext 0 if your child will be coming to daycare today. There is no breakfast or hot lunch so please be sure to bring the food your child will need. Thank you!
Meridian Public Schools will be closed on Tuesday, January 12th due to icy road conditions.
REMINDER: schedules for the week of 1-4 thru 1-8-21 are due by tomorrow night (Tuesday, 12-29) at 6:00 pm. Thank you!
REMIDNER: We are CLOSED on Thursday, 12-24, Friday, 12-25, Thursday, 12-31 and Friday, 1-1-21. Schedules for the week of 1-4 thru 1-8 are DUE by Tuesday, 12-29 at 6:00 pm. Thank you and Happy Holidays to ALL:)
*REMINDER: Schedules for the next two weeks (12-21 thru 12-25 and 12-28 thru 1-1-21) are DUE by 6:00 pm on Thursday, 12-16. Schedules for the week of 1-4 thru 1-8-21 are DUE by Tuesday, 12-29 at 6:00 pm. Thank you for your help in getting our staff schedules put together in a timely manner:)
December 7, 2020 Dear Meridian Mustang Families: We learned this afternoon the Michigan Department of Health and Human Services issued an extension of the pause for in-person learning for students in grades 9-12 and the continued stoppage in all athletic activities until at least December 20th. As such, students in grades 9-12 will return for in-person learning on Monday, January 4th. As announced last week, students in grades K-8 will return to in-person learning on Wednesday, December 9th. In conversation with the Midland County Department of Public Health this afternoon, our 3-week trend in Midland County continues to show a downward trajectory in the positivity rate. Thankfully, the spread that is taking place in communities is not taking place within schools. To date, there have been six outbreaks in schools in the county that have impacted 26 people and none of those have occurred in Meridian. The schools in the county will continue to work side-by-side with the health department and will continue to be aggressive with the quarantine protocols that have been very effective in limiting the spread of COVID-19 in schools. The quarantine period will follow the latest CDC guidance of 10 days with a possible return on day 11. Your understanding is appreciated as we continue to make difficult decisions. Sincerely, Craig D. Carmoney