Superintendent Glann invites you to join her for "Coffee & Conversation." Your feedback is greatly appreciated as we strive to foster open dialogue and collaboration with our community stakeholders. We look forward to a meaningful exchange of ideas and perspectives. #reachhigher
From our Mustang family to yours, we wish you a Happy Thanksgiving! #ReachHigher #HappyThanksgiving
Happy Friday Mustangs! We are seeking community input from Meridian Public Schools residents regarding facility improvements. Your input is essential in shaping educational programs, facilities, and services that will best serve our community's needs. This brief survey is anonymous, as the results will be tabulated by Perspectives Consulting Group, Inc. an independent marketing research firm
https://www.surveymonkey.com/r/MeridianPS
. The survey closes at 8am on Monday, November 13th. We look forward to hearing your thoughts and ideas for a brighter future together. #reachhigher
We are seeking community input from Meridian Public Schools residents regarding facility improvements. Your input is essential in shaping educational programs, facilities, and services that will best serve our community's needs. This brief survey is anonymous, as the results will be tabulated by Perspectives Consulting Group, Inc. an independent marketing research firm
https://www.surveymonkey.com/r/MeridianPS
. We look forward to hearing your thoughts and ideas for a brighter future together. #reachhigher
We are seeking community input from Meridian Public Schools residents regarding facility improvements. Your input is essential in shaping educational programs, facilities, and services that will best serve our community's needs. This brief survey is anonymous, as the results will be tabulated by Perspectives Consulting Group, Inc. an independent marketing research firm
https://www.surveymonkey.com/r/MeridianPS
. We look forward to hearing your thoughts and ideas for a brighter future together. #reachhigher
The nature trails behind the schools will be filled with creative sculptures created by the 7th & 8th grade Art students starting today. Students will be creating "fairy" and "troll" houses to create an "enchanted forest" along our trails. Want to see your student's art work? Take a stroll with them on a nice Fall evening tonight to see what they've been creating in Art.
You can help support MJHS by purchasing pancake and waffle mix from Lumberjack Food Co. Simply go to
www.lumberjack-foodco.com/fundraiser-form
before October 27th, and use the password 'flapjacks.' MJHS is saving for a new popcorn machine for our concession stand as well as new stereo equipment to be used at Fun Nights and Dances. Thank you for your support!!
Coming Soon! This year MJHS has partnered up with Lumberjack Food Company for our fall fundraiser! Lumberjack Food Co. is locally owned by a family in Pinconning, and they make and produce their own gourmet pancake/waffle mix. Some of the flavors include Blueberry, Chocolate Chip, Strawberry, Pumpkin Spice and many more! The fundraiser will run from October 16th to the 27th. See an MJHS student that you know to support MJHS.
The 23/24 MJHS Mentor Program has had a successful launch. Our mentors started their work in August by welcoming all of our 5th graders and new students to MJHS at orientation, and they continue to help our 5th graders adapt to Jr. High by meeting with them periodically. With over 70 Mentors from the 7th and 8th Grades, they make a difference for our young students through their commitment to our school and helping others. Thank you to our MJHS Mentors! The Mentor Program is one more way that MJHS offers a Culture that Empowers.
October is #NationalPrincipalsMonth and we are celebrating our principals! Thank you to our principals and assistant principals for all of your hard work and dedication to our students and staff. We will be highlighting each of our prinicpals this month, so stay tuned for their individual profiles. Thank a principal today! #ReachHigher #ThankAPrincipal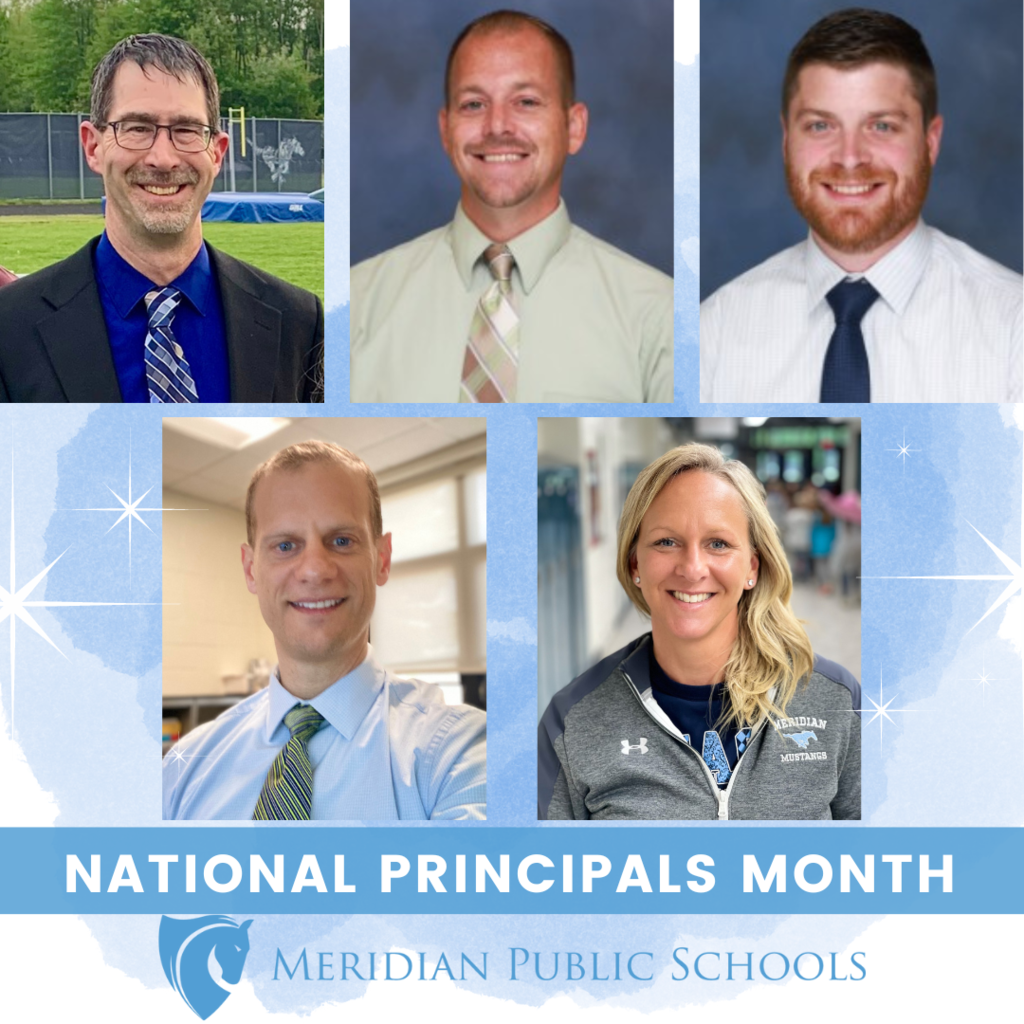 Meridian Public Schools is hiring! Visit
www.merps.org/nowhiring
to find our open jobs! Our transportation partner, Auxilio, and food service partner, Chartwells, are also hiring! See the attached flyers below for more information! #ReachHigher #NowHiring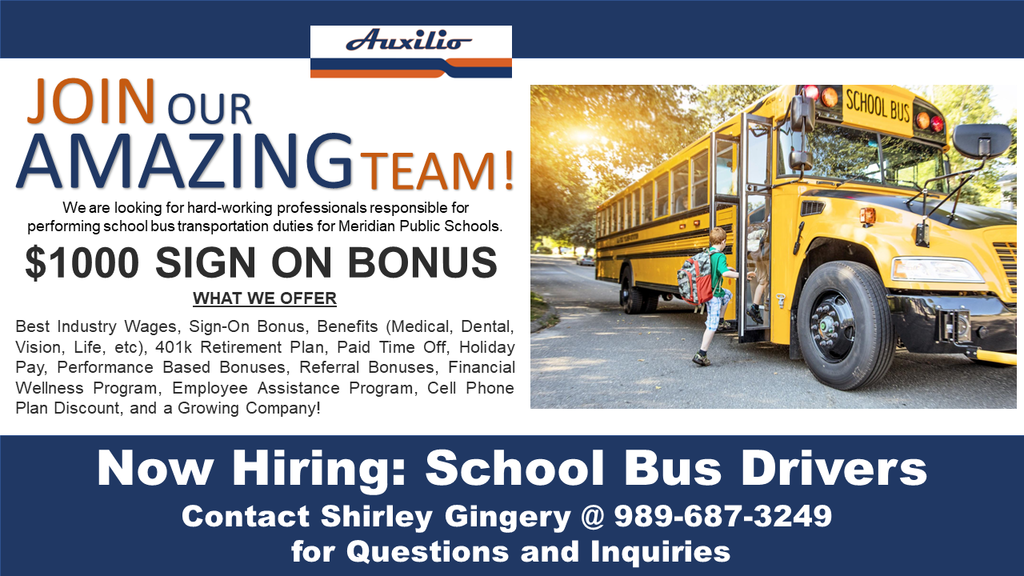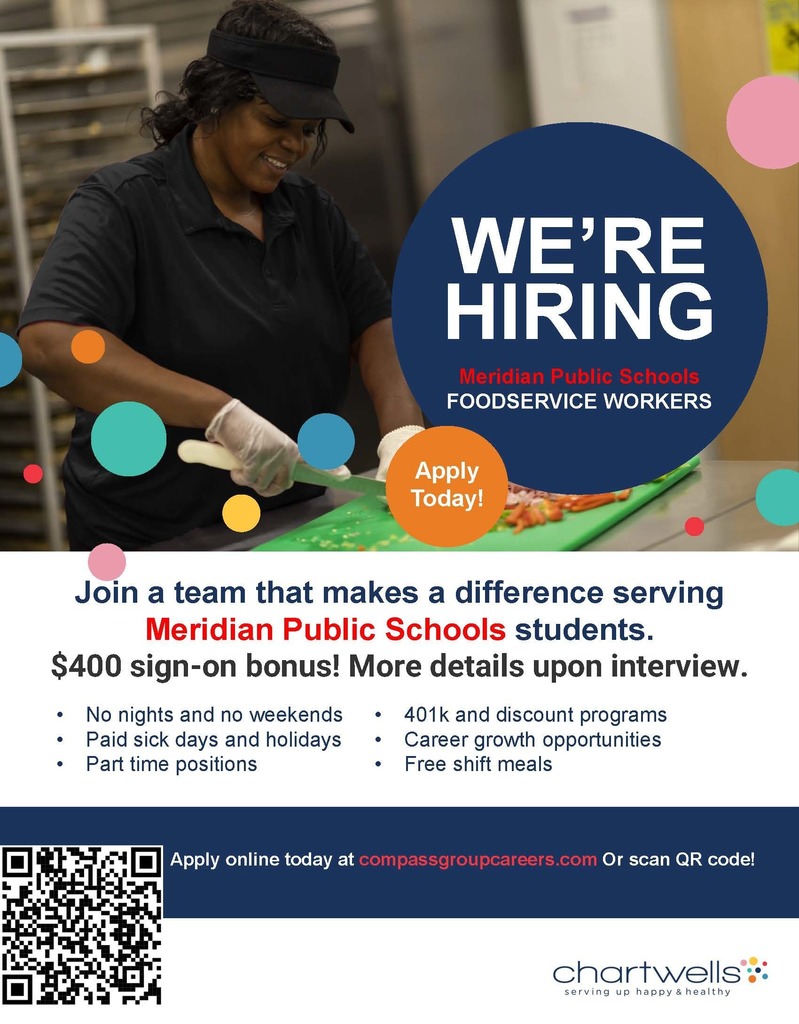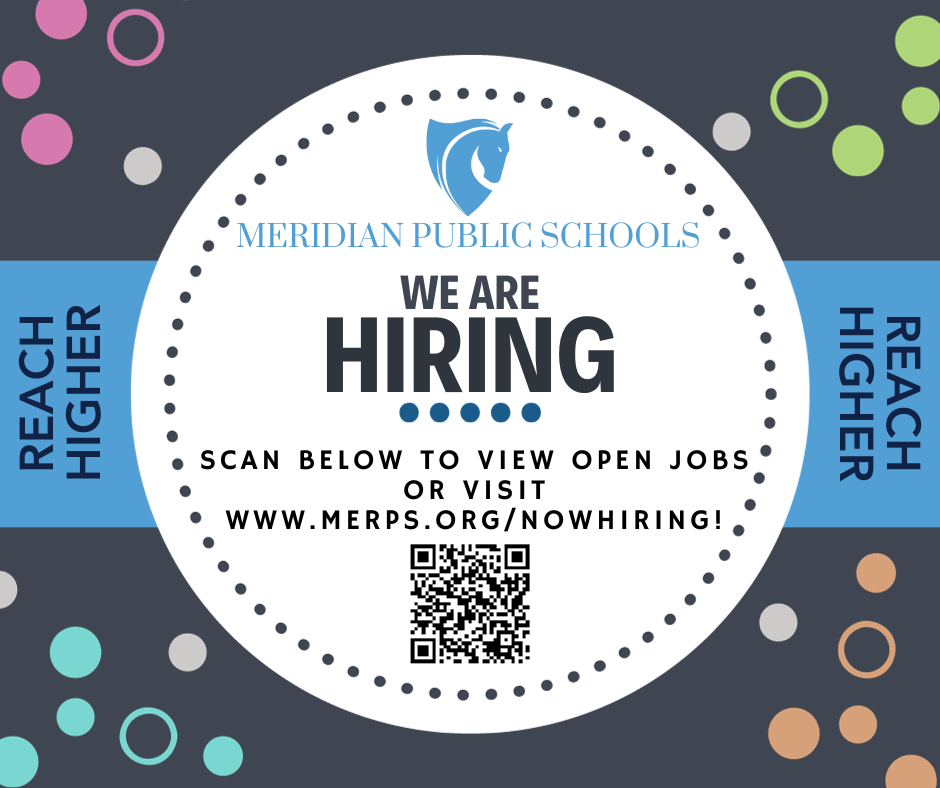 Did you know that MJHS offers two STEM (Science, Technology, Engineering, & Mathematics) courses? Through our STEM Project Lead the Way courses, students engage in hands-on, collaborative problem solving focused on real-world challenges. Sixth graders have the opportunity to take Design and Modeling where they are introduced to the design process, and seventh & eighth grade students are offered Automation and Robotics where students design, build, and automate mechanisms. Go to PLTW.org for more information. STEM courses are one more way MJHS offers Teaching that Engages with Outcomes that Matter.
Happy Homecoming Mustangs! We can't wait to see you all tomorrow! Reminder: parade lineup is at 4pm at Porte Park, with the parade starting promptly at 5pm in downtown Sanford. Make your way from the parade to the football game at 7pm! Go Blue! #ReachHigher
Good afternoon Mustang Fans, The 2023-2024 athletic season is approaching fast with our first home JV/Freshman volleyball game tomorrow night! We have a few updates at the athletic gate this year. We are now offering the option to pay with a debit or credit card via GoFan. You can purchase tickets in advance through GoFan for faster entry or you can pay at the gate. Cash payment will still be available as well. Those interested in purchasing Season Passes can now do so through e-Funds
www.merps.org/efunds
or at the high school office with cash, check or card. Please note that season pass purchases at the gate can only be done with cash or check. Please take a moment to review the HOW-TO & FAQ on using GoFan to learn about the ticket purchasing process:
https://docs.google.com/document/d/1T4ypu7RUZJ9y1WpPr34g_tYMY6w8GLnr5K62AH63Wys/edit?usp=sharing
GoFan has previously been used at MHSAA District and Regional athletic events hosted by Meridian. #ReachHigher
WELCOME TO MERIDIAN! Welcome to Ms. Katie Adam who will be teaching 5th grade English Language Arts! We are so happy to have you on our team! #ReachHigher
WELCOME TO MERIDIAN! Welcome to Ms. Jennifer Plesko who will teach 6th and 8th grade science this year! We are so happy to have you on our team! #ReachHigher
WELCOME TO MERIDIAN! Welcome to Ms. Rachel Pappas, who will be our Instructional and Behavioral Coach this year! We are so happy to have you on our team! #ReachHigher
Happy Monday Mustangs! Please see the attached informational flyer from our Food Service Department about FREE breakfast and FREE lunch this year for all K-12 students! ***Please note*** we need ALL families to log into the family portal
https://meridian.familyportal.cloud
and fill our the Education Benefit Form. This is crucial for other programs that rely on this information. Have questions? Contact the Food Service Department at 989-687-3212. Have a great day! #ReachHigher