Tonight's Junior High Volleyball game has been CANCELLED.

MJHS students can pick up their class schedules on Tuesday, August 24th from Noon - 3:00 pm or from 5:00 - 7:00 pm at the MJHS Open House.
Meridian Public Schools is hiring! See the attached flyer for a list of positions. Interested in applying? Visit
https://www.merps.org/page/human-resources
to find the application and a list of frequently asked questions. #ReachHigher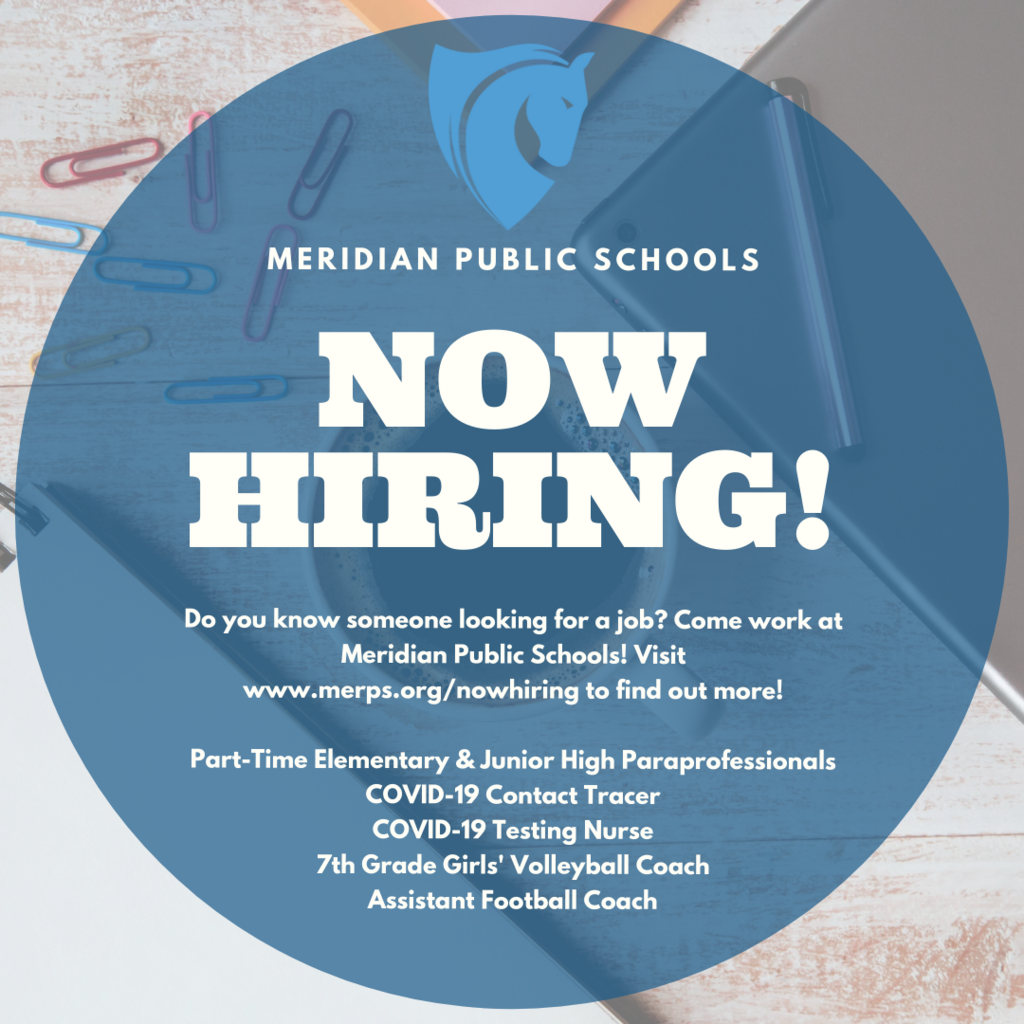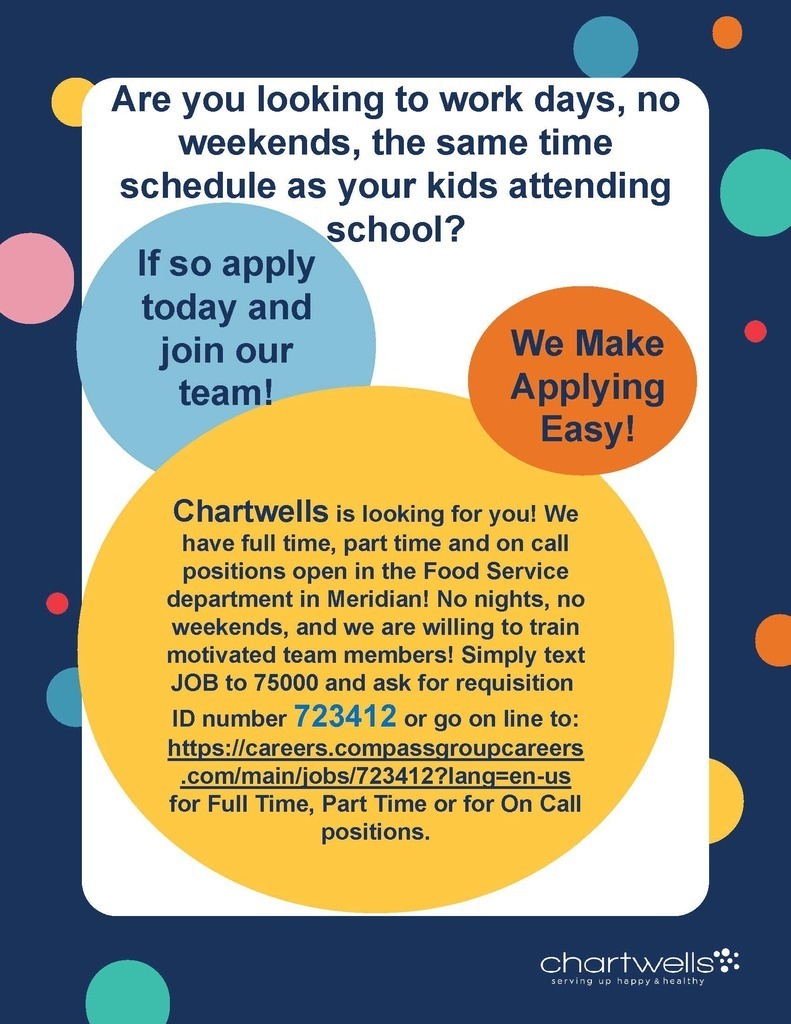 Hello Mustangs, This is an update with transportation for this school year. We will need a request for transportation filled out if any of the following has occurred: · If your family has moved · If your student was virtual last year and are attending face to face this year · If there are any new changes for this year. If you do not have any changes to your student's transportation for this year, a request form is not needed. Completed forms can be emailed to
transportation@merps.org
, or dropped off to the Administration Office, Monday through Thursday from 8am to 4pm. Completed forms are due to the Transportation Office no later than 3pm on Wednesday, August 25th to ensure your student is placed on a bus for the first day of school. A copy of the transportation request form can be found on our website, or at
https://core-docs.s3.amazonaws.com/documents/asset/uploaded_file/354124/Request_for_Transportation_new.pdf
If you have any questions, please contact the Transportation Office at 989-687-3249.

This year's Meridian Jr. High Orientation for 5th graders and new 6th, 7th, & 8th grade students to the district will be Tuesday, August 24th. Sixth graders who were part of our virtual program last year are also invited to attend orientation. Orientation will start in the Meridian Jr. High gym at 10:00 a.m. and will last until Noon. Although parents do not need to stay for orientation, staff will be on hand to answer their questions about MJHS. Students will participate in several activities to become acquainted with the Jr. High—students will meet their student mentor, receive and walk-through their schedule, learn lunch procedures, and play a few games. Hot dogs will be served for lunch.
NOW ENROLLING! Meridian Public Schools is now enrolling new students for the 2021-2022 school year! Visit
www.merps.org/enroll
to enroll your Mustang today! Questions? Give us a call at 989-687-3200. #ReachHigher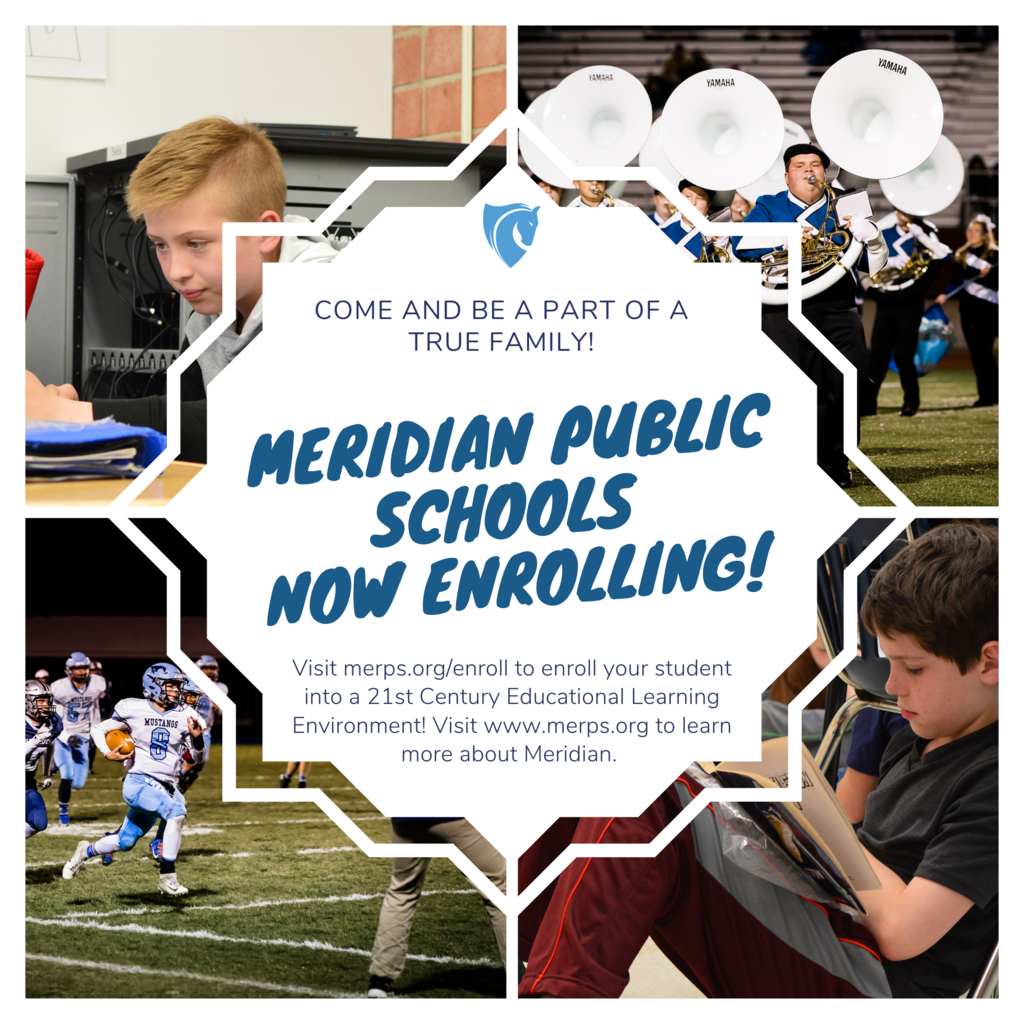 Good Afternoon Mustangs, Tonight's food pickup from 4-6 has been cancelled, as all food has been handed out. We will see you next week. Thank you
Good Morning Mustangs! This is a reminder that meal pickup is today, Tuesday 7/13, from 9-11am and 4-6pm at Meridian Early College High School. Meals are FREE to anyone 18 and younger. Students do not have to attend Meridian to receive the meals. Stop by and see our food service staff as they serve up happy and healthy meals to you! Thank you
NOW ENROLLING! Meridian Public Schools is now enrolling for the 2021-2022 school year! See the flyer below, or visit
www.merps.org/enroll
to sign up your Mustang today! Come and see how your student can #ReachHigher with us! #NowEnrolling
Check out the openings in our Food Service Department! See the attached flyer for more details. #ReachHigher #JobPosting

Third Marking Period report cards were sent home with MJHS students on Monday, April 12th. Report cards for students who are currently quarantined are being mailed.
Meridian Public Schools will be closed today, Friday April 9th, due to a power outage.

Friday, March 26th is a half day of school, and MJHS students will be dismissed at 11:15 a.m. Enjoy your Spring Break! School will resume on Tuesday, April 6th.

After school tutoring at MJHS for today, Thursday, March 11th has been cancelled.

Reminder: Friday, February 26th is a half day of school, and MJHS students will be dismissed at 11:15 a.m.

The 7th & 8th grade boys' basketball season is now back on. Practice will start on Tuesday, February 9th. 7th grade will practice from 3:00 - 5:00 pm, and 8th grade will practice from 5:00 - 6:30 pm. 8th graders must go home after school and return at 5:00 for their practice. Additionally, boys must have a physical on file in the office to be able to practice.
Good Morning, All evening activities occurring after 5:30pm this evening (February 4th, 2021) have been cancelled. There will be no ski club tonight.

The Jack Pine Conference has now officially cancelled the rest of the middle school girls' basketball season, and the start of the 7th & 8th grade boys' basketball season is currently paused. A new start date for practice for the boys' basketball team will be on our daily announcements if and when we get word that the season can start.

Reminder, Friday, February 5th and Monday, February 8th are vacation days.