Happy Educator Appreciation Week! Meridian Public School District truly appreciates each and every staff member. Everyone plays a vital role in the success of the district. Thank you for your dedication during the school year to provide our students with an exceptional educational experience, a safe learning environment, and wonderful systems of support. Meridian has amazing staff that truly cares for our students. It is a great day to be a Mustang! #reachhigher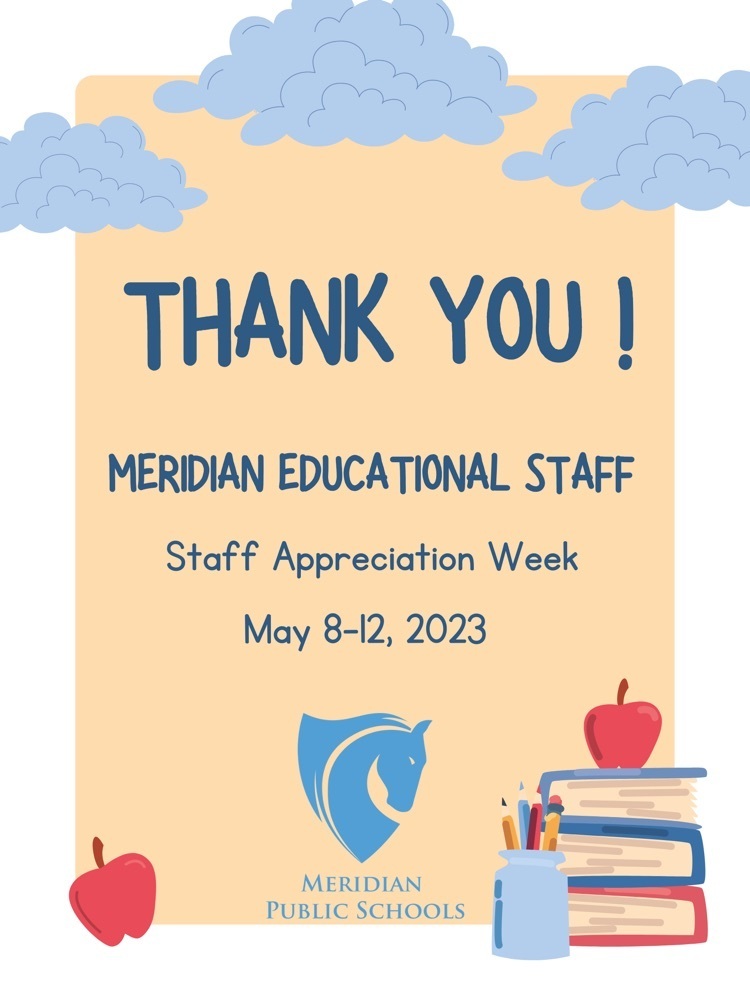 Meridian Public Schools: Good Afternoon, Please note that our phone vendor is having intermittent issues with their service to our area. Phone calls may say that our phones are unavailable. The vendor is working on a solution to this issue, and are aware of the problem. If you need to reach the office of your child's school, you can find email addresses below. Thank you. Meridian Elementary -
mes.office@merps.org
Meridian Junior High School -
mjhs.office@merps.org
Meridian Early College High School -
mechs.office@merps.org
Meridian Early Childhood Center -
mecc.office@merps.org

The Jr. High track meet scheduled for tonight, May 2, 2023, has been cancelled. The MJHS Track team will still have practice tonight at the normal time. The coaches will announce a make up date for the meet as soon as it becomes available.
Happy Teacher Appreciation Day! Our teachers go the extra mile for our students and community, everyday! Thank you teachers for all that you do! #ReachHigher #TeacherAppreciationDay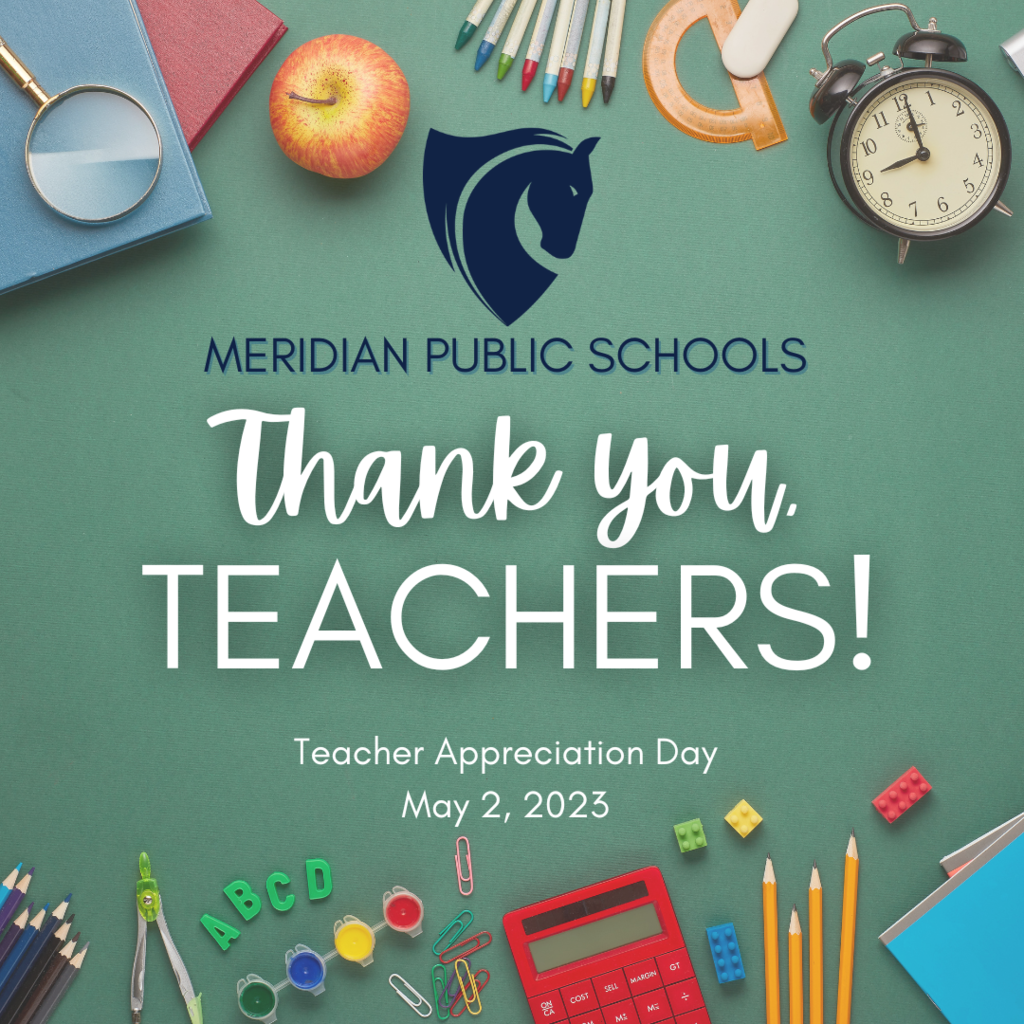 It's time for the Meridian Art Show! Come and see all of the amazing work made by our students in the Auditorium Lobby on May 10th and 17th from 4-7pm. #ReachHigher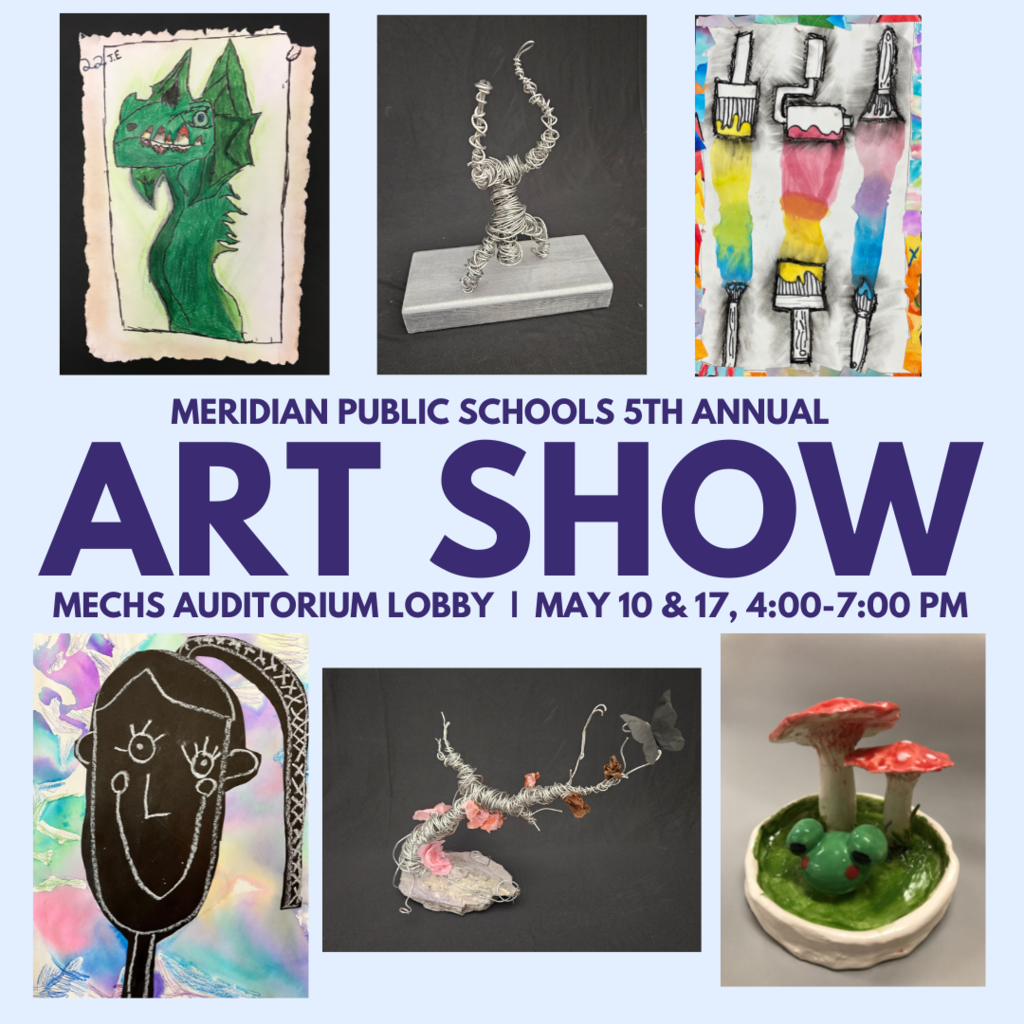 Good Morning Mustangs, Please see the attached press release from MASB regarding second round interviews and candidates for Meridian's next Superintendent. Have a great day!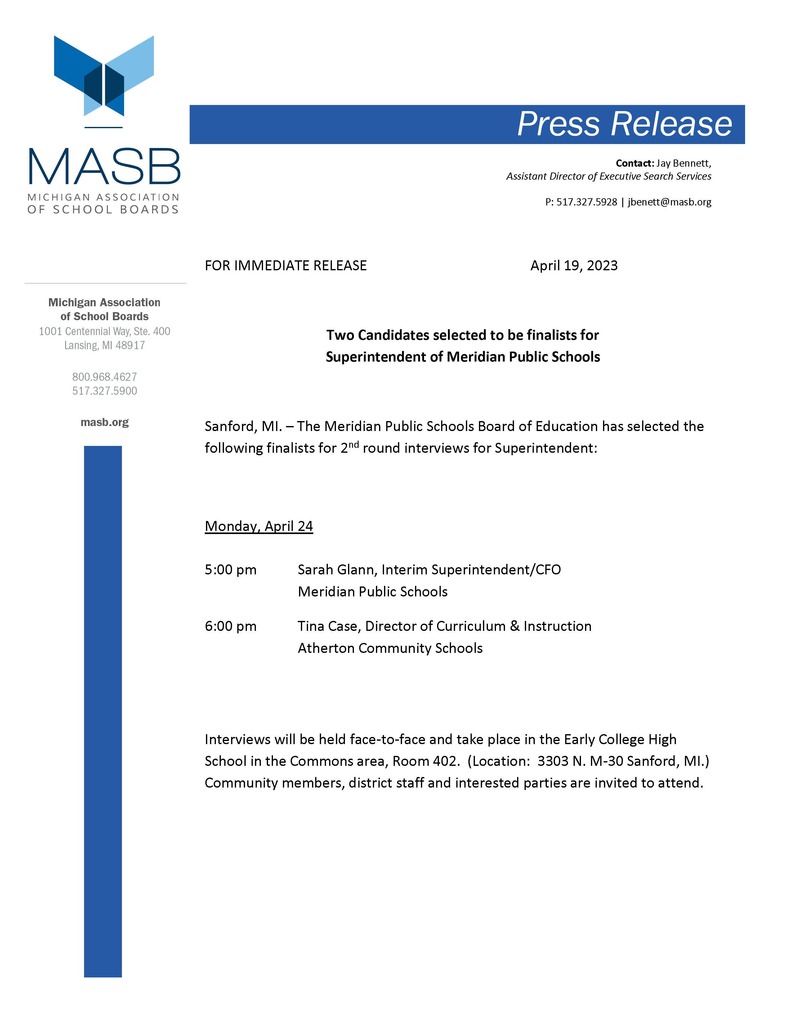 The MJHS track meet in Clare today, Tuesday, April 18, 2023 has been canceled. A make up date will be announced at a later time. The team will still have practice at the normal time today.
Good Afternoon Mustangs, Please see the attached press release and updated search timeline for Meridian's next Superintendent. Have a great day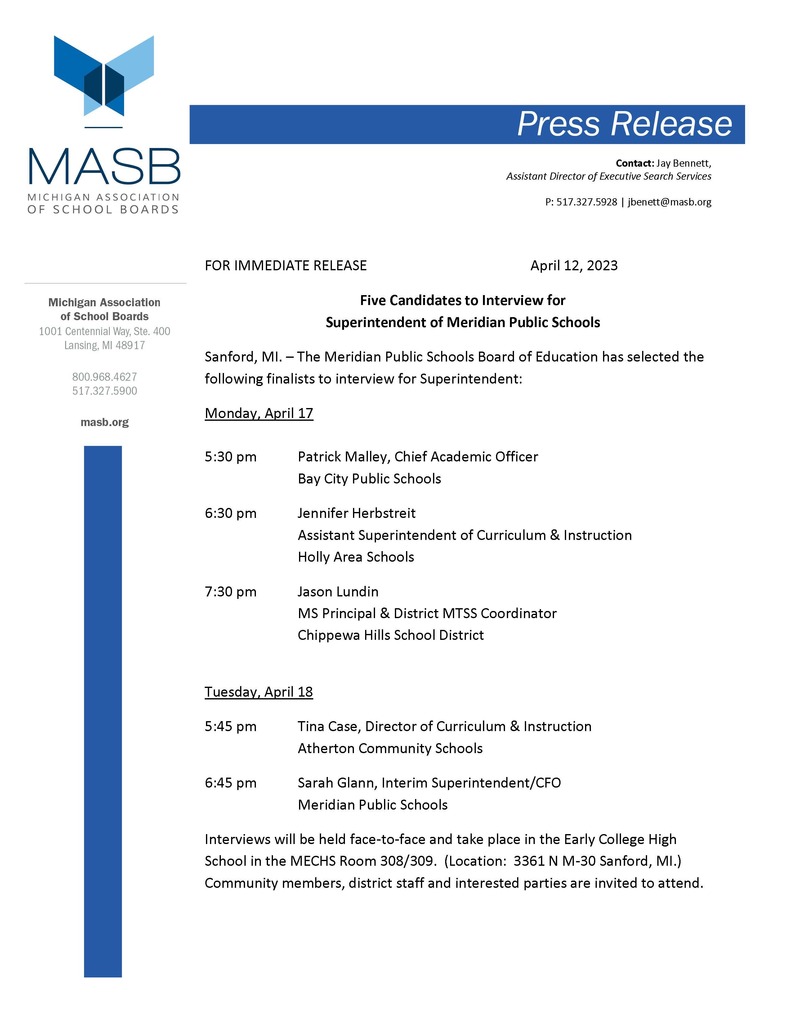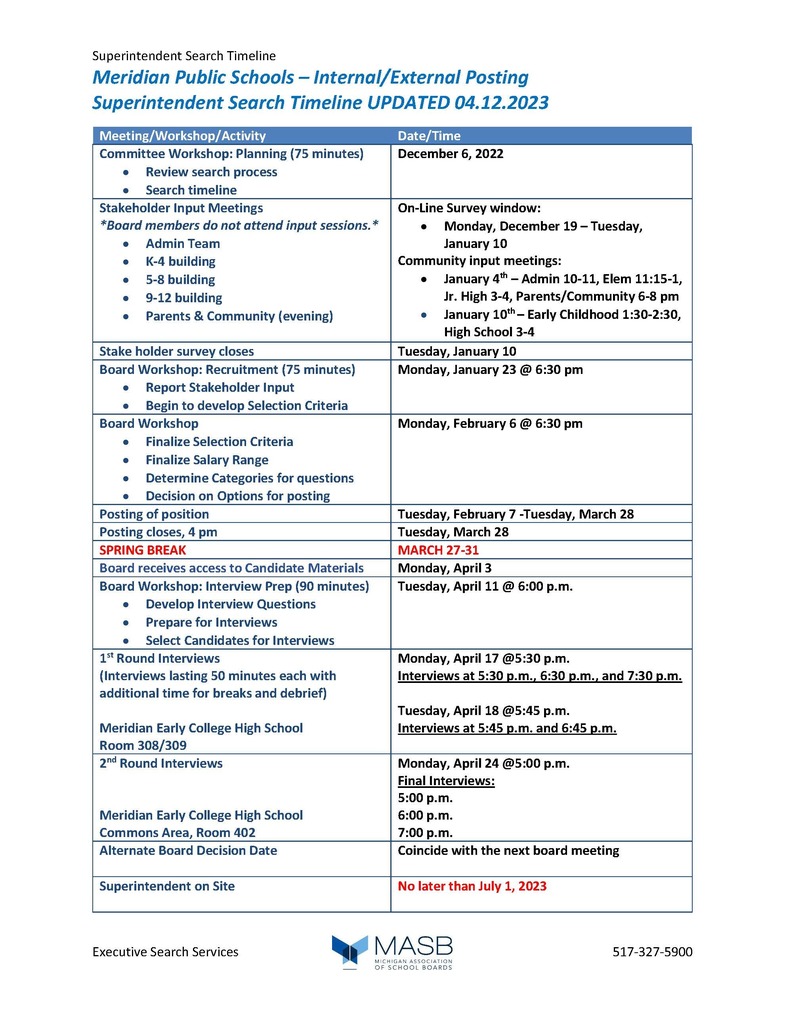 Join us for the "Nacho" Average School night for current 8th graders going into 9th grade next year, on April 19th from 6-7pm in the MECHS Cafeteria. Information will be provided from faculty and students about MECHS. Please RSVP for this event at
https://tinyurl.com/MECHSNacho
#ReachHigher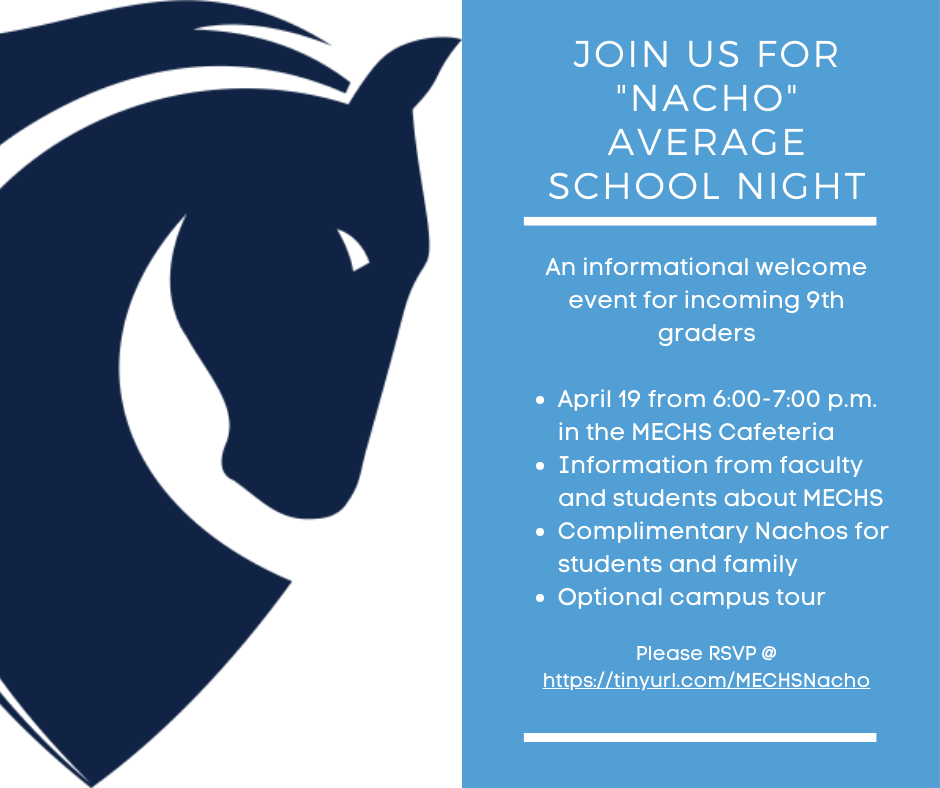 MES, MJHS, and CMU are sponsoring a Family Science Night on Wednesday, April 12th from 6:30 p.m. – 7:30 p.m. at Meridian Jr. High School for 4th– 8th graders and their families. The purpose of the Family Science Night is for students to learn about a science topic along with their family and to motivate students to want to learn more in the area of science. Central Michigan University science education students will be running the night's events, and 4th– 8th graders attending must be accompanied by at least one adult. When signing up, parents will pick one of the sessions listed on the flyer.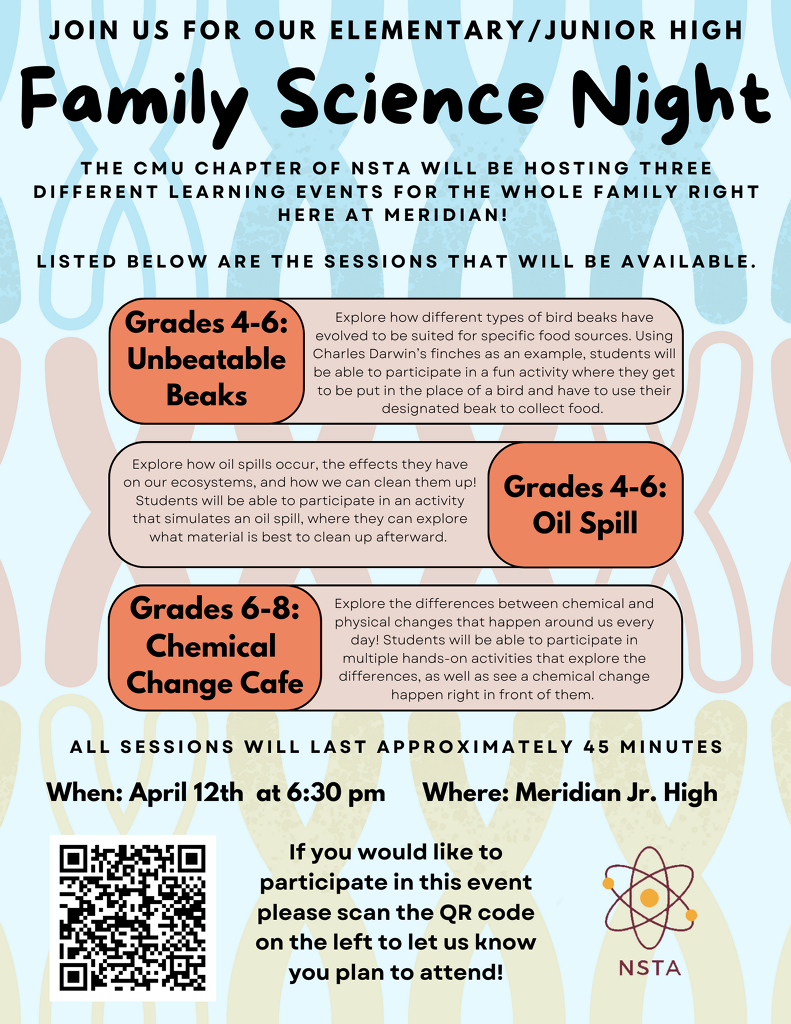 Are you looking for a job? Check out the flyer below for the Midland County Education Job Fair hosted by Midland Public Schools, at H.H. Dow High School on Saturday, April 15th from 11am to 4pm. Come and see the open jobs at Meridian! #ReachHigher #JobFair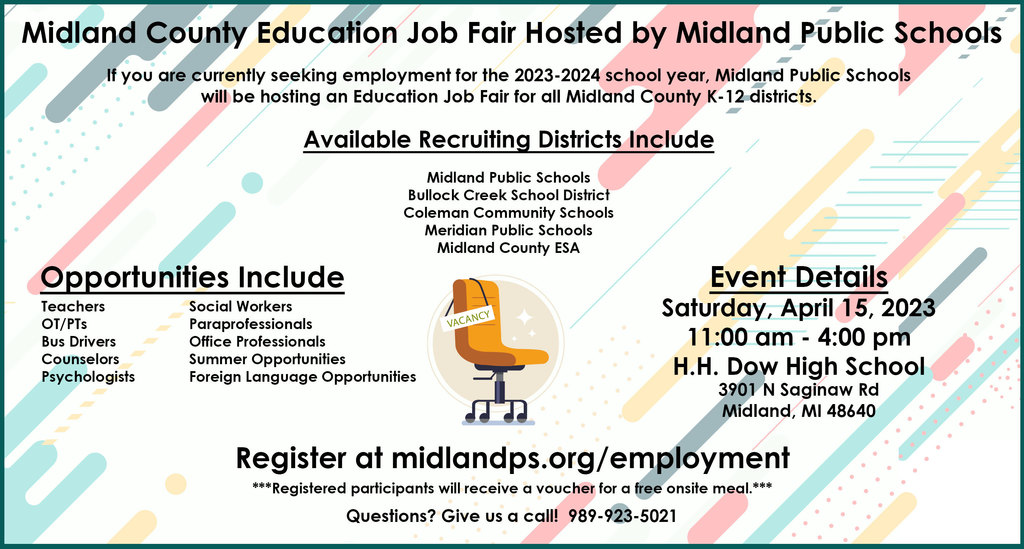 The 2023-2024 school calendar is now available! All families have received a copy in their email inbox this morning. You can view the calendar and a quick reference sheet at
www.merps.org/calendar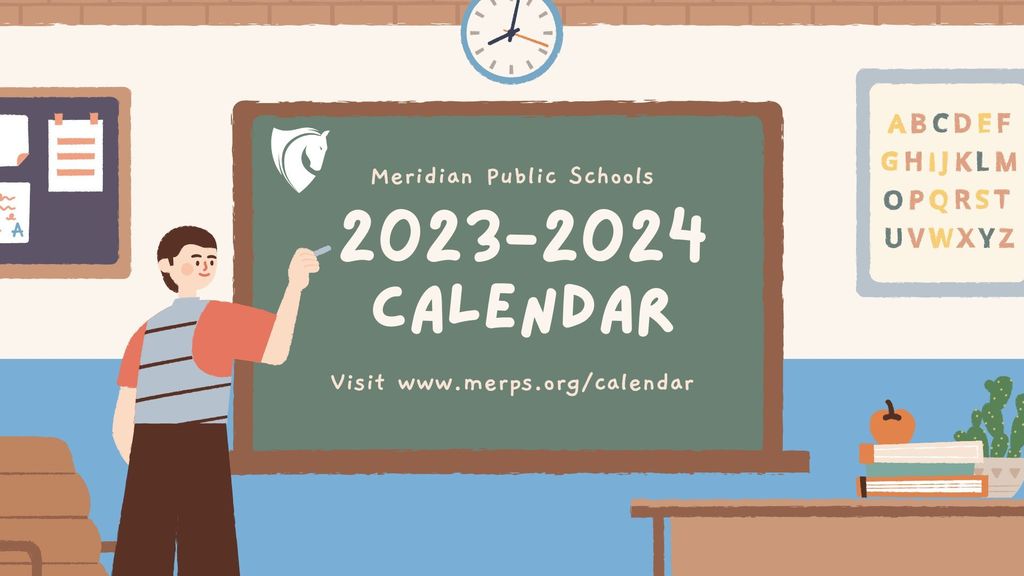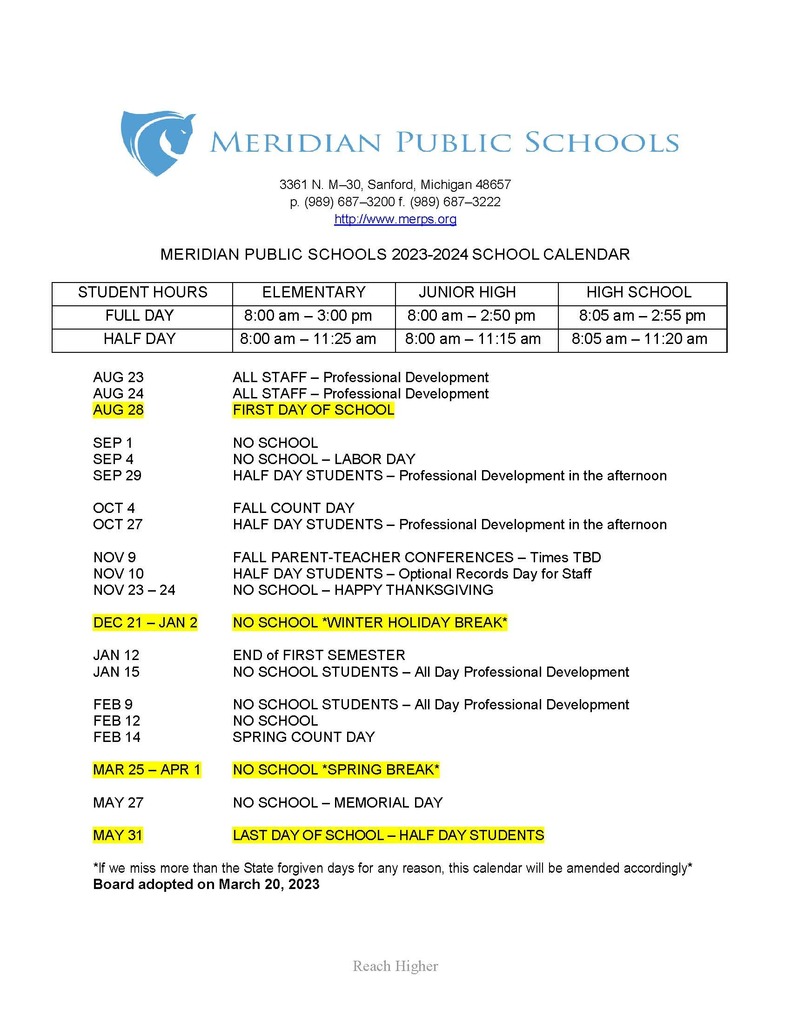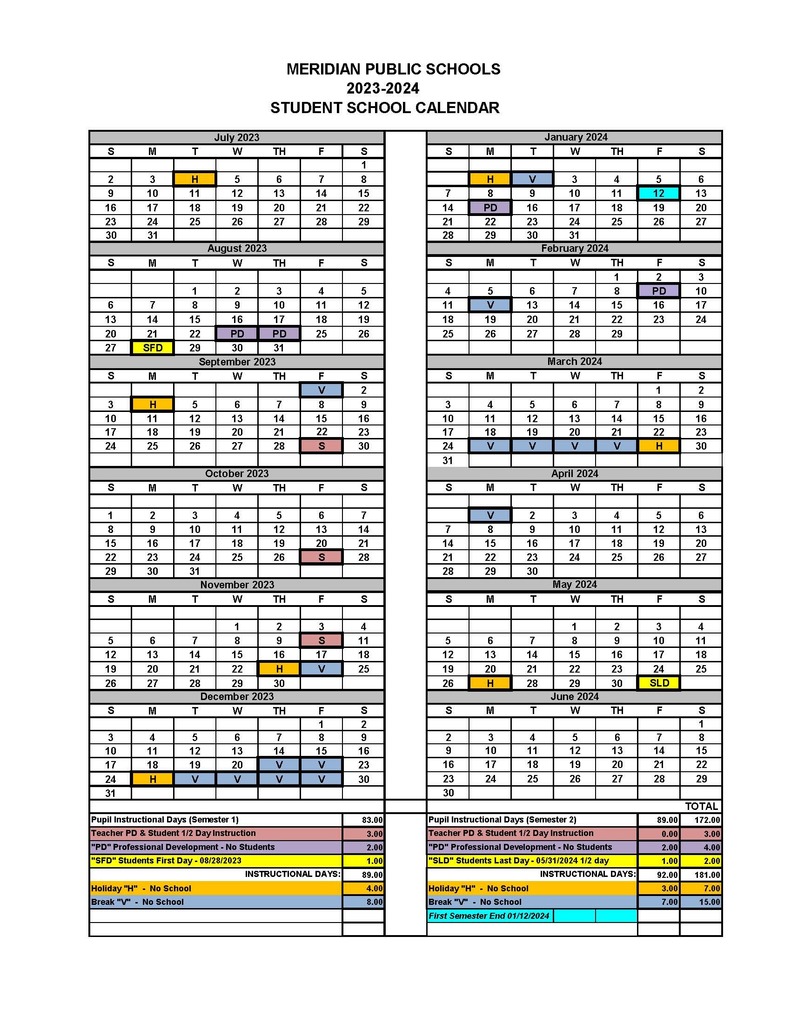 TRAILS for Wellness is having a Suicide Awareness and Prevention for Caregivers and Communities presentation. If you are interested in joining the meeting, please see the attached flyer for more information.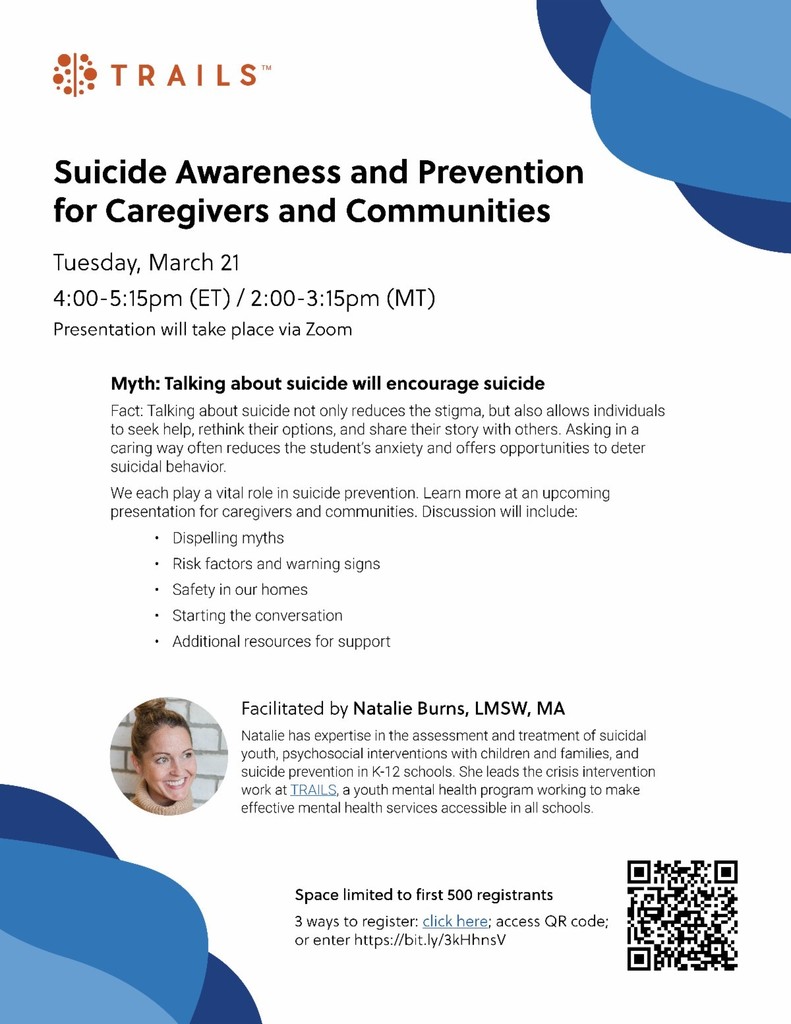 Friday, March 10, 2023 is a half-day of school, and MJHS students will be dismissed at 11:15 a.m.
The 8th Grade, Junior High Band Festival, has been rescheduled to Saturday, March 4th, at 12:35pm in Frankenmuth. Good luck band! #ReachHigher
Today's Junior High 8th Grade Band Festival in Frankenmuth has been cancelled.
Good Evening Mustangs, Meridian Public Schools will be closed tomorrow, Tuesday February 28th. Please travel safely.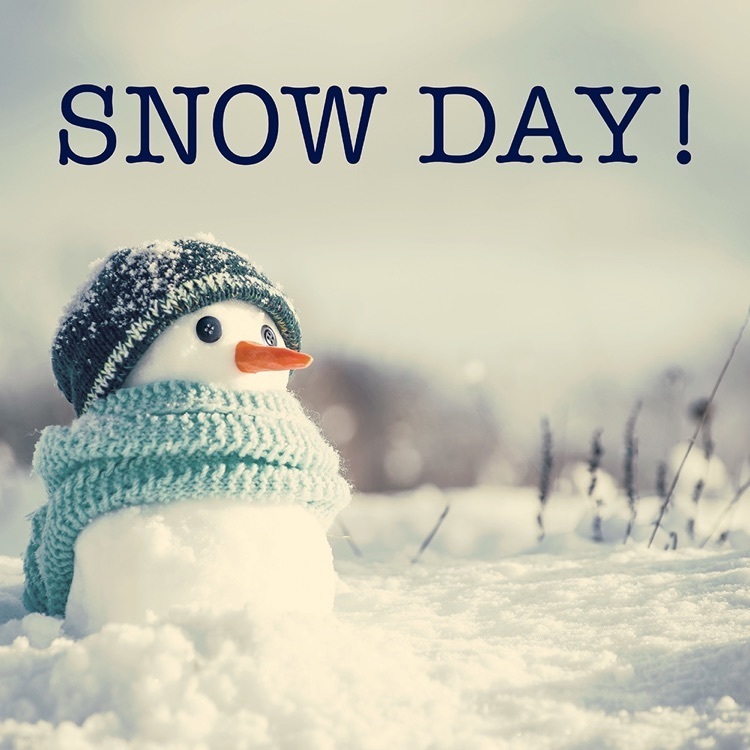 Good Afternoon Mustangs, Please note that Meridian Public Schools will be dismissing students 15 minutes early today, Monday February 27th, to allow for additional time for buses to safely take students home. Please drive with caution. Thank you.

All MJHS after school activities are cancelled for today, Monday, February 27th. This includes The ROCK, softball workouts, and weight lifting.

MJHS Parent/Teacher Conferences are cancelled for today, Thursday, February 23rd.