EDIT MAIN
MERIDIAN PUBLIC SCHOOLS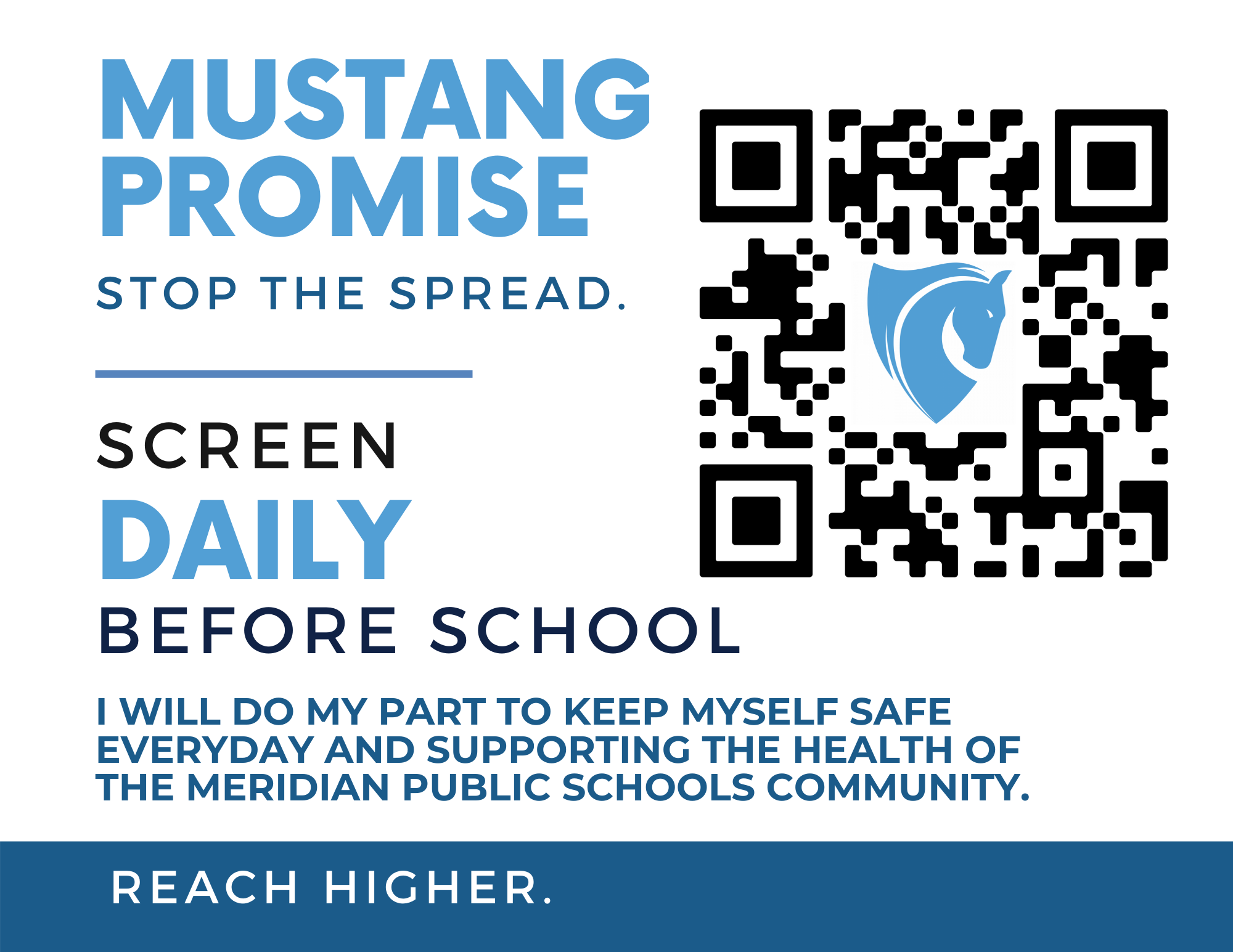 MERIDIAN PUBLIC SCHOOLS STUDENT HEALTH SCREENING GUIDELINES
2020-2021
Before leaving for school, please make sure of the following screening. If your child has any of the following symptoms, that indicates a possible illness that may decrease the student's ability to learn and put them at risk for spreading illness to others.
Section One: Symptoms (New/Worse/Different)
☐ Temperature 100.4 degrees Fahrenheit or higher when taken by mouth
☐ Sore throat
☐ New uncontrolled cough that causes difficulty breathing (for students with chronic allergic/asthmatic cough, a change in their cough from baseline)
☐ Diarrhea, vomiting, or abdominal pain
☐ New onset of severe headache, especially with a fever
Section Two: Close Contact/Potential Exposure
In the past 14 days has your child:
☐ Had close contact (within 6 feet of an infected person for at least 15 minutes) with a person with confirmed COVID-19: OR
☐ Had close contact (within 6 feet of an infected person for at least 15 minutes) with person under quarantine for possible exposure to COVID-19; OR
☐ Had a travel history
If the answer is YES to any of the questions in Section One, but NO to all the questions in Section Two, www.mi.gov/coronavirustest or call 2-1-1 to find a location to have your child(ren) tested for COVID-19.
If the answer is YES to any of the symptom questions, but NO to any close contact/potential exposure questions, your student may return based on the guidance for their symptoms (see "Managing Communicable Diseases in Schools"):
Fever: at least 24 hours have passed with no fever, without the use of fever-reducing medications
Sore throat: improvement (if strep throat: do not return until at least 2 doses of antibiotic have been taken);
Cough/Shortness of breath: improvement
Diarrhea, vomiting, abdominal pain: no diarrhea or vomiting for 24 hours
Severe headache: improving
4/3/2020
Good Morning Mustangs,
Earlier in the week, we sent out a survey to families to identify areas of need; and we have identified access to technology as the highest priority. We are sending this new survey out to learn our families individual needs, allow families to request a device, and to get a better picture of their current access to devices and the internet. Thank you for taking the time to complete this survey!
Survey: bit.ly/merpstech
4/2/2020
Good Evening Mustang Families,
Announced today by Michigan Governor, Gretchen Whitmer, all school buildings are closed for the remainder of the school calendar year. Please see the video update below from Meridian Superintendent, Craig Carmoney, on what this means for learning at Meridian. Please make sure to check back here frequently, as well as checking your email, for communication regarding the closure and learning procedures.
3/30/2020
Good Evening Mustangs,
I hope that is communication finds you and your family well as we navigate through these uncertain and unfamiliar times. Meridian Public Schools are continuing to make plans in the likely event that the school closing order extends beyond April 13th. We have put together a survey that is intended to find out how we can further support our students and families. The survey will only take a couple of minutes to complete. We would ask that you complete the survey no later than Friday, April 3rd. We certainly miss all of our students and look forward to seeing them as soon as we are allowed too.
Survey: bit.ly/merpssupport
If you are looking to sign up for our meal distribution program, please sign up at bit.ly/merpsmeals. If you have already signed up, no need to sign up again. We have you on our list.