Limited spots still available for MERPS Theatre Camp! Modeled after CMU's Theatre Camps, under the leadership of CMU Professor Theatre Professor Keely Stanley-Bohn , MERPS Summer Theatre Camp provides sessions in topics such as: Acting, Scene Study, Improvisation, Stage Combat, Dialects, Music Theatre, Make-Up, and Dance. Open to incoming Meridian 7th-12th grade learners, this camp will occur from Monday, June 21-Thursday, June 24, 9AM-2PM, at Meridian Public Schools brand new auditorium! Transportation, meals, and a free shirt are included for the $25.00 camp fee. PLEASE complete the form for each child you are registering. Questions? Email Kimberly Dudinetz at
kimberely.dudinetz@merps.org
. Register TODAY, remaining seats are extremely limited:
https://form.jotform.com/210963714275155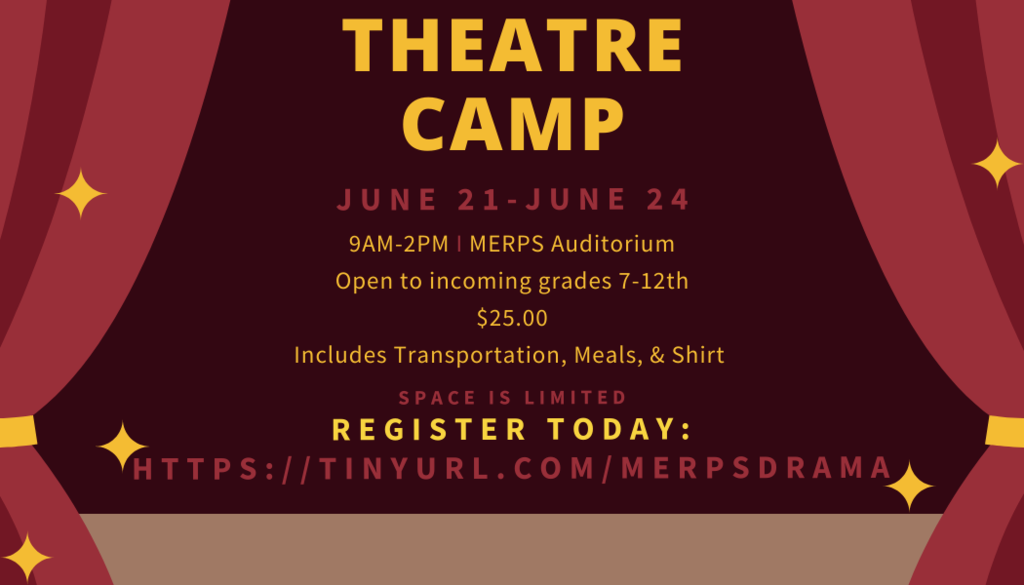 The Meridian Track & Field team came out of the blocks with all cylinders firing today! 🏃‍♀️🏃 Meridian has several athletes that have earned state titles today with their amazing performances. Dane Plichta, Jack Murphy, Cameron Metzger, and Jake Schultz took 1st in the 4x200 relay, and the ladies team of Lauren Brawt, Morgan VanWormer, Trinity Kolka, and Josie Barriger took 6th. Moving into the next relay, the ladies team took 10th in the 4x200. Brawt had good performances in the long jump and the 400 meter run, and Gabe Sturgeon also had a good performance in the discus throw. 🥏 Dane Plichta took 3rd in the 200 meter run, and Jack Murphy took 1st in the long jump, with a jump of 22 feet, 5.5 inches. Congratulations to all of our Mustang Track & Field athletes for all of their accomplishments this season! We are so proud of you all! 💙 🥇 #ReachHigher #ItsAGreatDayToBeAMustang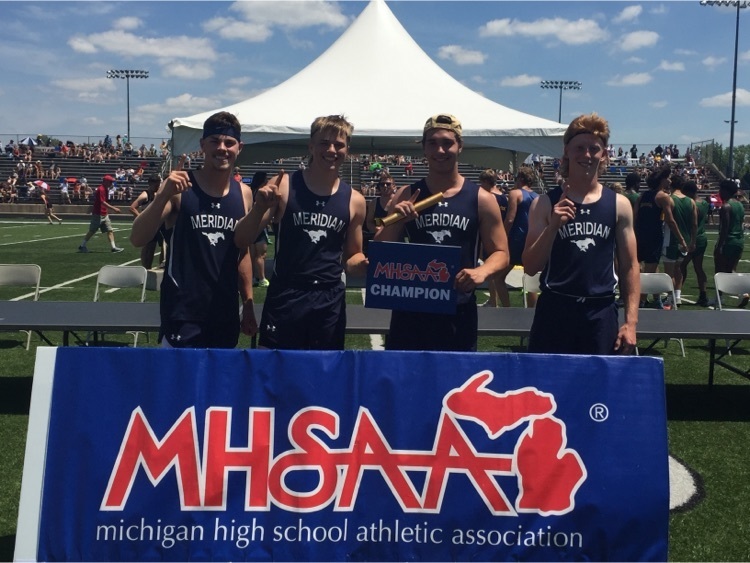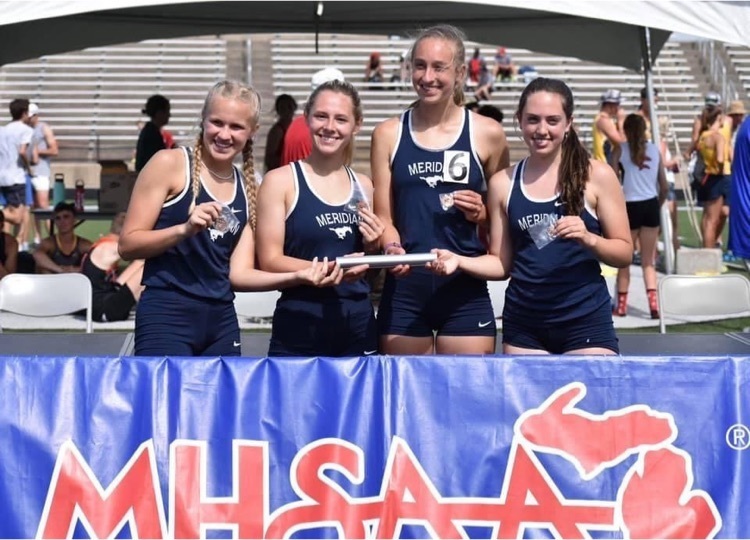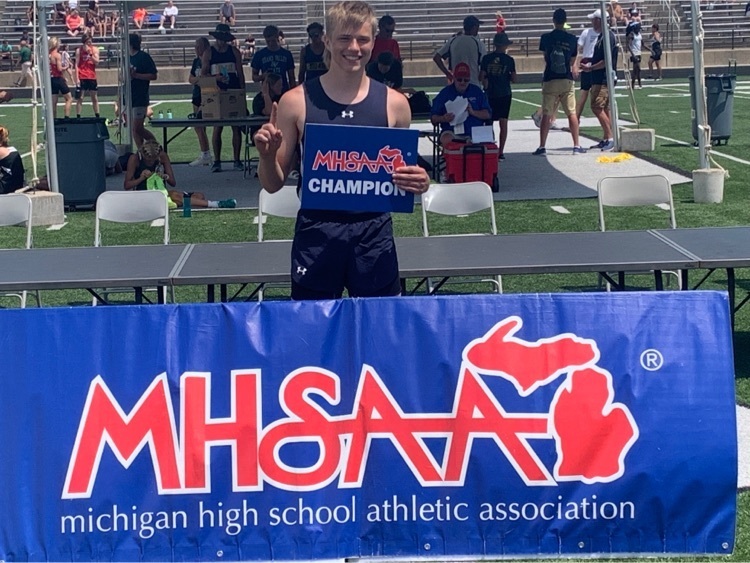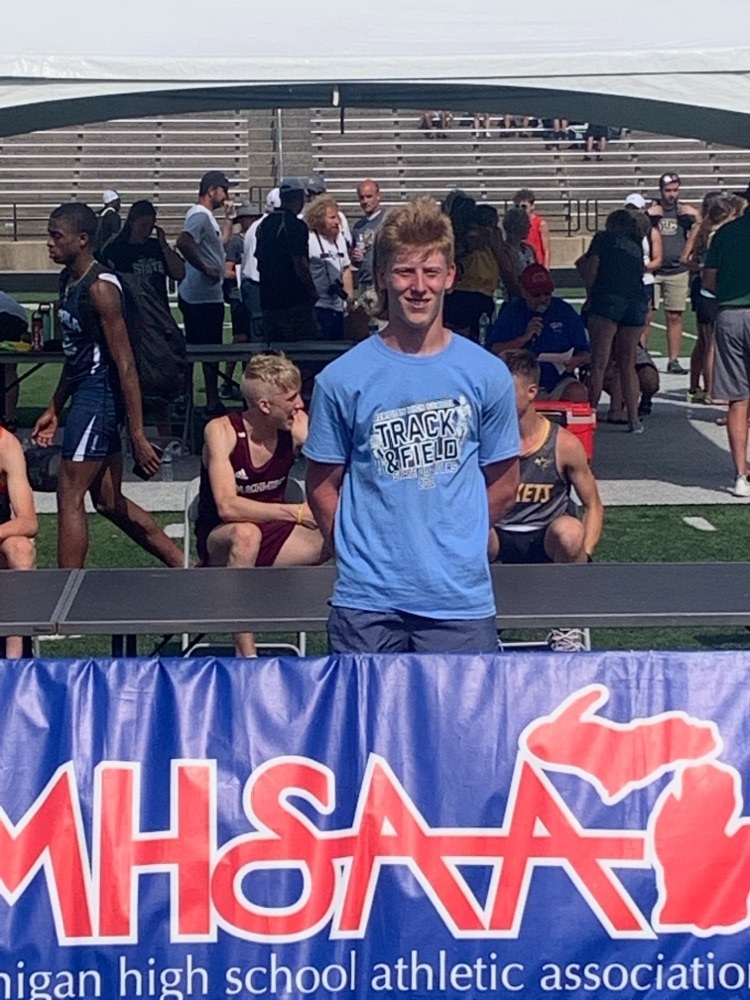 Graduation Day is HERE! Please join Meridian Public Schools TONIGHT, Thursday, May 20, 7PM, via MECHS Facebook LIVE stream, to celebrate MECHS Class of 2021 graduates!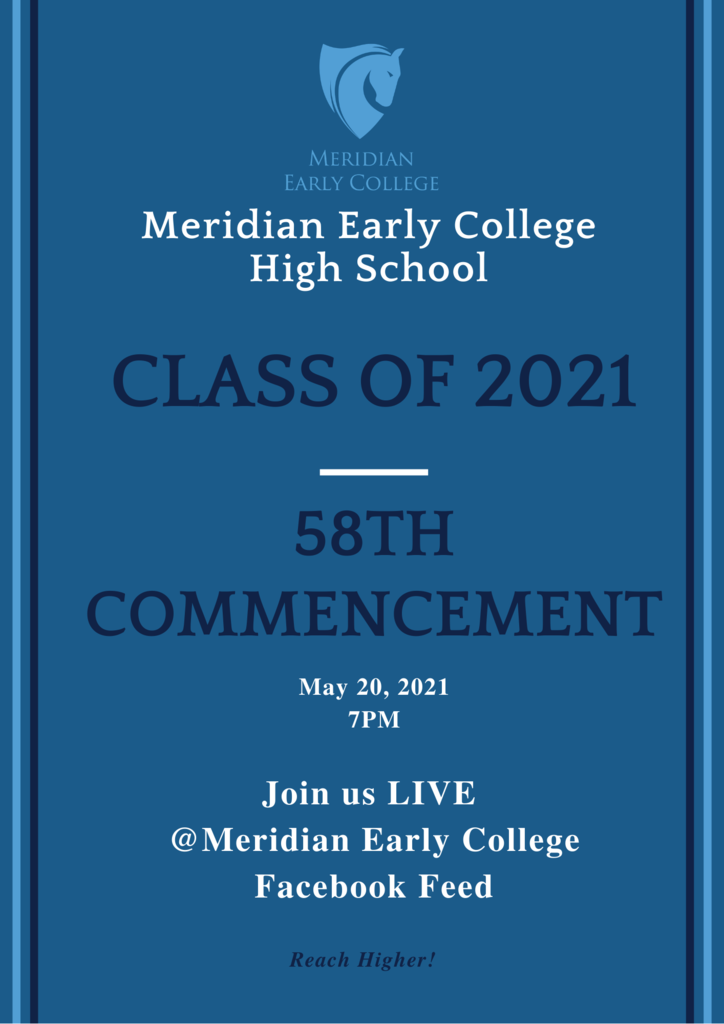 Class of 2021 Commencement in 7 days! Please join Meridian Public Schools on Thursday, May 20, 7PM, via MECHS Facebook LIVE stream, to celebrate MECHS graduates!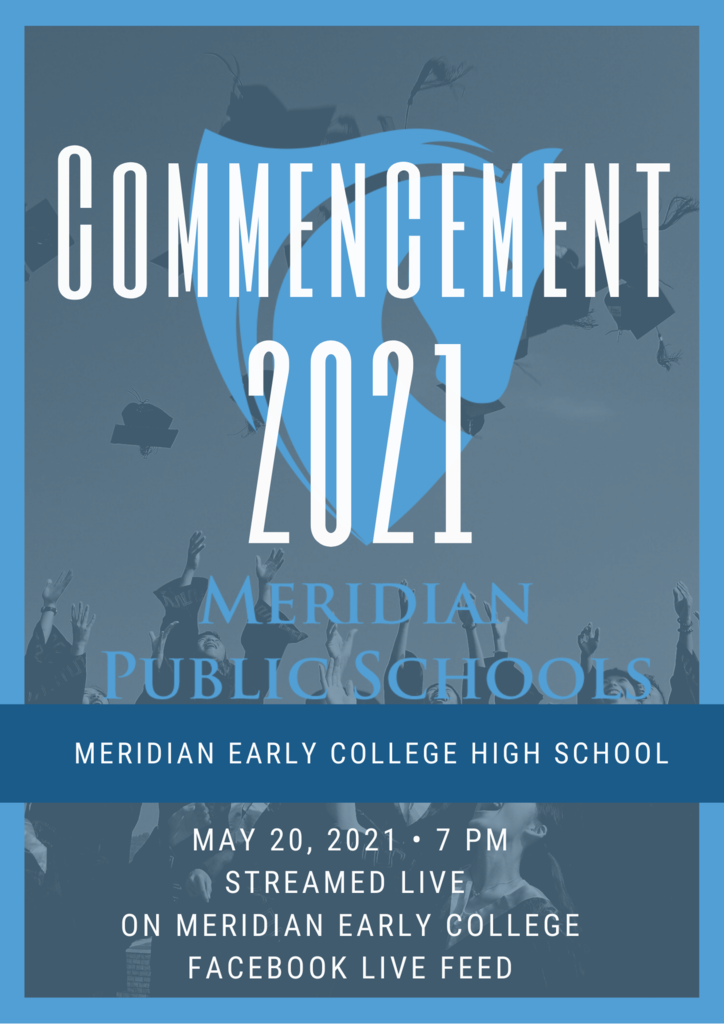 FINAL NIGHT: Please join Meridian Public Schools to celebrate the talents of artists, grades K-12, at the annual MERPS Art Show, Thursday, May 12th, 4PM-7PM at Meridian High School Auditorium. Per current MDHHS orders, capacity restrictions may result in a slight delay in admission. Face coverings are required upon entry.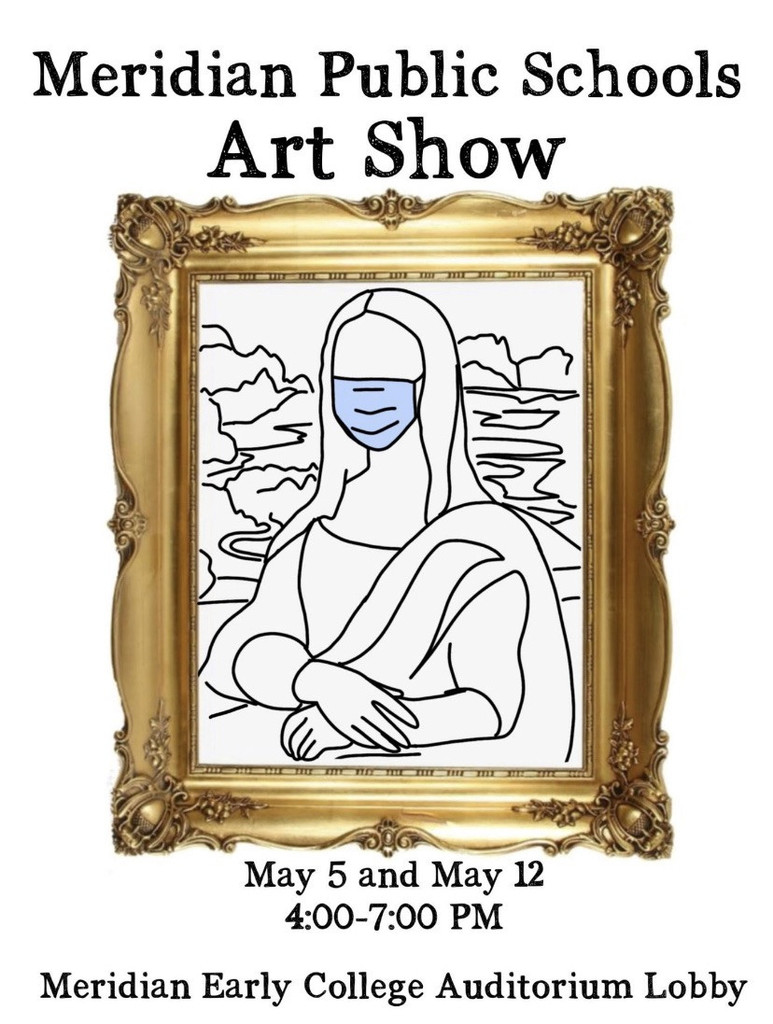 Please join Meridian Public Schools to celebrate the talents of artists, grades K-12, TONIGHT at the annual MERPS Art Show, Wednesday, May 5 AND Thursday, May 12th, 4PM-7PM at Meridian High School Auditorium. Per current MDHHS orders, capacity restrictions may result in a slight delay in admission. Face coverings are required upon entry.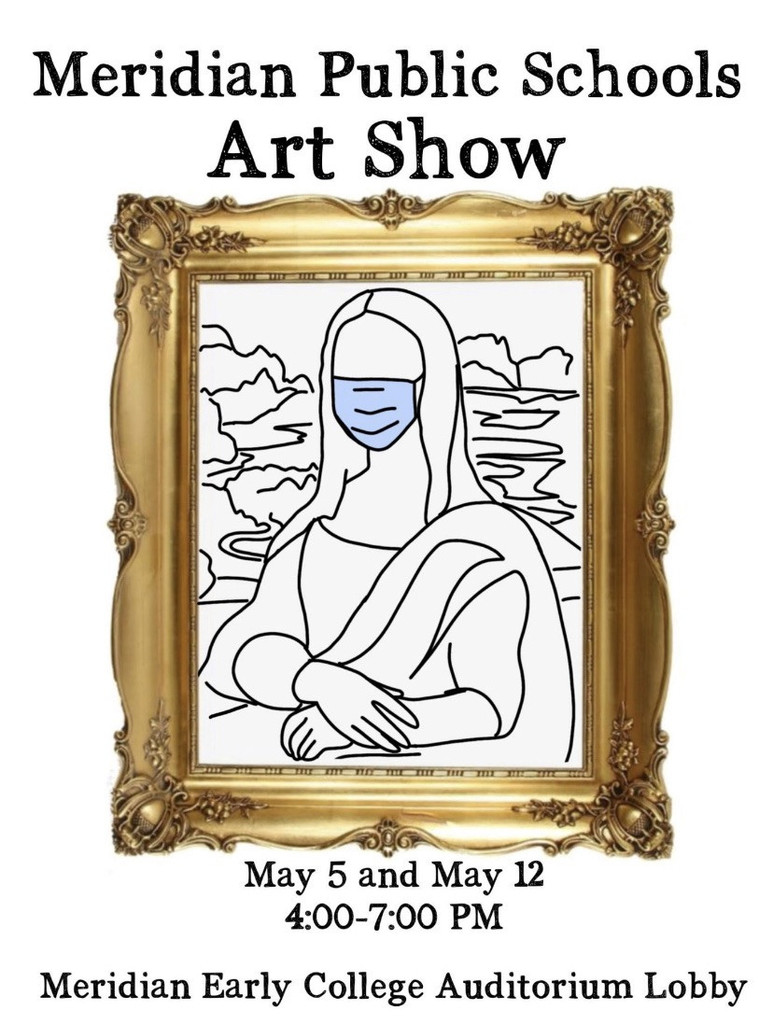 Check out the openings in our Food Service Department! See the attached flyer for more details. #ReachHigher #JobPosting
Meridian Public Schools will be closed today, Friday April 9th, due to a power outage.
REMINDER: TOMORROW, Friday, Feb. 26, is a half day of school. MECHS will be dismissed at 11:20AM so staff can engage in scheduled professional learning time.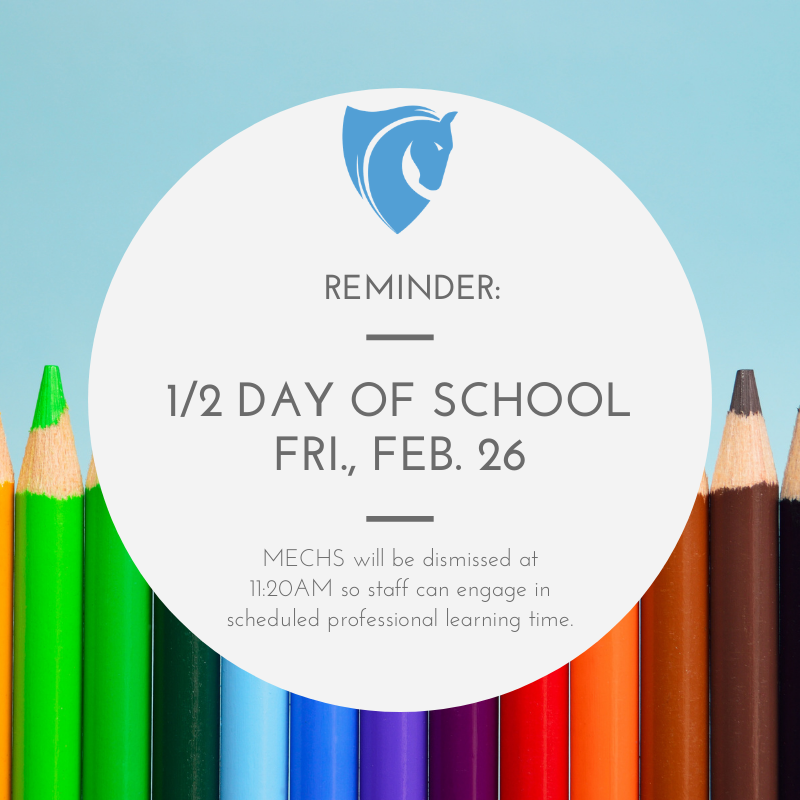 Meridian Schools are closed on Monday, February 22nd.
Meridian Public Schools will be closed today due to snowy conditions
Good Morning, All evening activities occurring after 5:30pm this evening (February 4th, 2021) have been cancelled. There will be no ski club tonight.
All athletic practices have been CANCELLED for this evening, January 26th.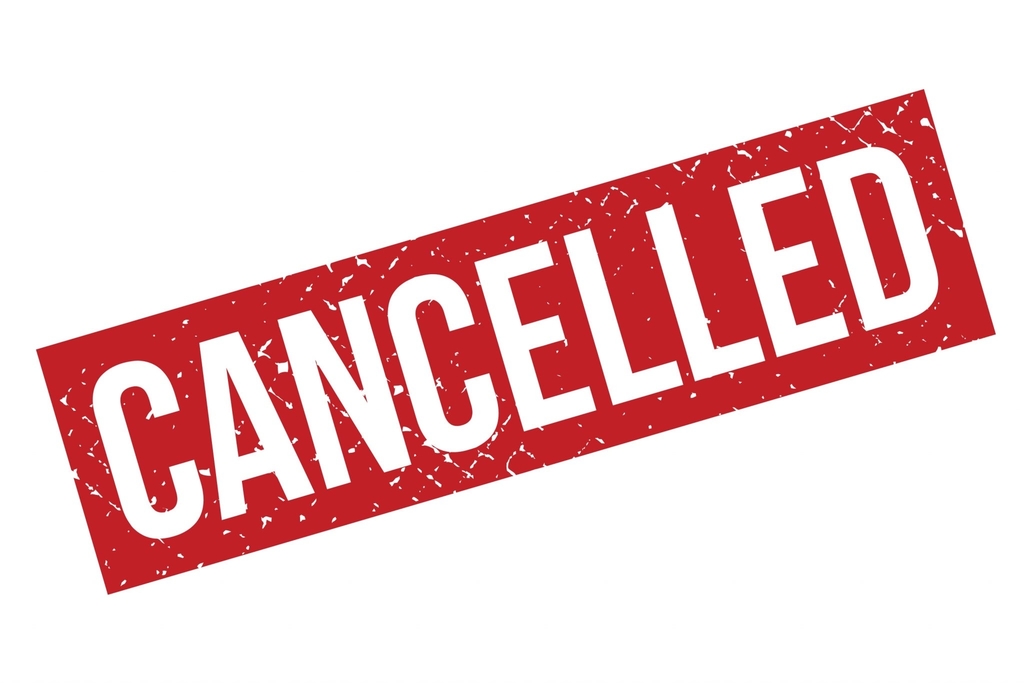 Meridian Public Schools will be closed on Tuesday, January 12th due to icy road conditions.
Meridian Public Schools wishes your family a healthy and happy holiday season! As your partner in learning, MERPS is grateful to share the joy of giving with your family:
https://youtu.be/x4_XE-BK-0w
A huge thanks to the MERPS Peer to Peer group for volunteering their creative talents!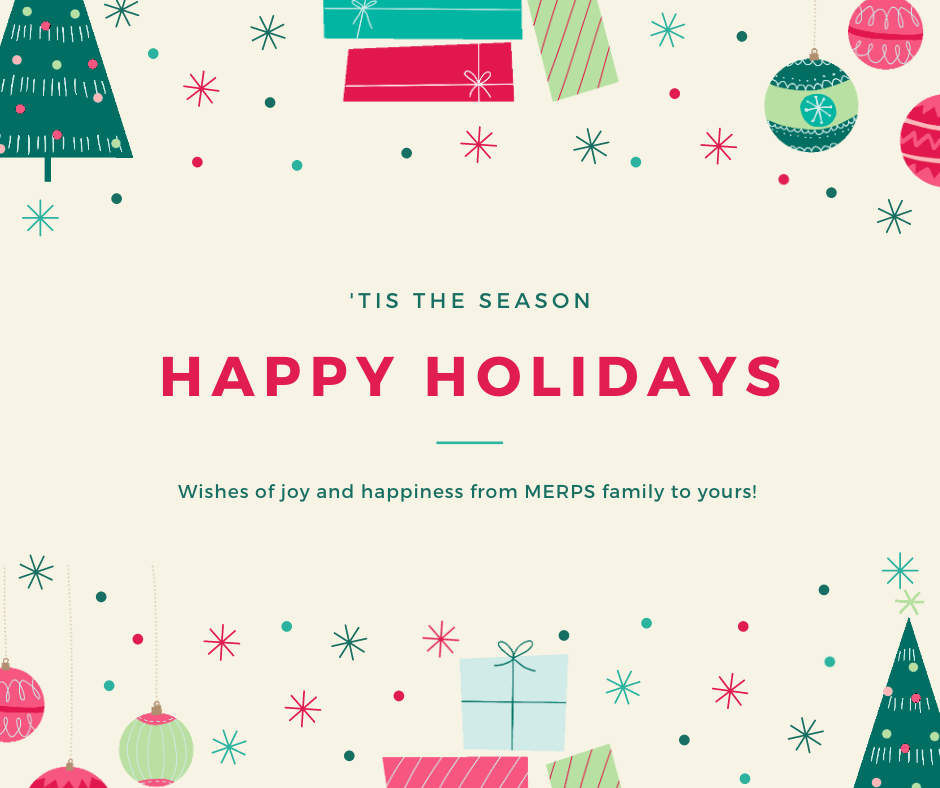 December 7, 2020 Dear Meridian Mustang Families: We learned this afternoon the Michigan Department of Health and Human Services issued an extension of the pause for in-person learning for students in grades 9-12 and the continued stoppage in all athletic activities until at least December 20th. As such, students in grades 9-12 will return for in-person learning on Monday, January 4th. As announced last week, students in grades K-8 will return to in-person learning on Wednesday, December 9th. In conversation with the Midland County Department of Public Health this afternoon, our 3-week trend in Midland County continues to show a downward trajectory in the positivity rate. Thankfully, the spread that is taking place in communities is not taking place within schools. To date, there have been six outbreaks in schools in the county that have impacted 26 people and none of those have occurred in Meridian. The schools in the county will continue to work side-by-side with the health department and will continue to be aggressive with the quarantine protocols that have been very effective in limiting the spread of COVID-19 in schools. The quarantine period will follow the latest CDC guidance of 10 days with a possible return on day 11. Your understanding is appreciated as we continue to make difficult decisions. Sincerely, Craig D. Carmoney
October 30, 2020 Dear Mustang Families, This school year has presented all of us with some unique challenges, and I'm very proud of how our students and staff have responded. Our return to in-person learning has been successful. At the same time, the amount of COVID-19 cases in the community continues to increase and it is having a significant impact within our schools. We have had to quarantine well over 100 students and staff to date and closed multiple classrooms due to students and staff who have been required to quarantine. Thankfully, we have managed this very well with the support of the Midland County Department of Public Health. However, this has placed an extra burden on students, families, and staff who have been directly impacted. We are doing our best to support students while they are quarantined, but this is proving to be challenging due to the number of students and staff impacted. Due to these circumstances, I am making a change to the school calendar. Students will not report to school on Friday, November 13th. Students will be assigned remote learning for that half-day. This will allow school staff to be provided with additional training on supporting students who are not in school for an extended period. We will also use this day to do an extended deep cleaning of all of our buildings. I want to continue to emphasize that the choices that are being made, especially small group gatherings, are having a great impact on the community spread of COVID-19. Schools in the county remain very safe as there has only been one outbreak traced back to a school setting. The one thing that we really need help with is to have those that are exhibiting symptoms to remain home. While we have heard about many symptoms such as fever, dry cough, and the loss of smell or taste, there are some less obvious symptoms such as a runny nose. While I understand that staying home with mild symptoms such as a runny nose goes against what many of us think we should do, this is contributing to the increase in numbers. The conversation around whether or not schools may close is certainly one that I'm well aware of. We are committed to remaining in-person and have the support of the health department. It is a certainty that students and staff will continue to be quarantined and that classrooms and/or grade levels may need to learn remotely for a period of time, so please bear with us as we work through those issues. Perhaps the biggest current threat to in-person learning is staffing levels as there is a shortage of subs for teaching, transportation, and cleaning. All decisions will continue to be made on a case-by-case basis in order to do what is best for students and staff. Yours in Education, Craig D. Carmoney
Michigan Association of Superintendents & Administrators FOR IMMEDIATE RELEASE Meridian's Craig Carmoney Named 2021 Michigan Superintendent of the Year LANSING – Craig Carmoney, Superintendent at Meridian Public Schools in Sanford, was announced as the Michigan 2021 Superintendent of the Year award winner by the Michigan Association of Superintendents & Administrators (MASA) tonight during a surprise agenda item at the district's virtual board of education meeting. The Michigan Superintendent of the Year Award is presented by MASA to an association member who has shown tremendous effort and dedication to enriching the lives of children and the community as a whole. "I've known Craig Carmoney for a long time and there is no one more deserving of this year's Michigan Superintendent of the Year award," said MASA Executive Director Dr. Tina Kerr. "His spirit, determination, and leadership have been a driving force in the community for many years. Whether it's embarking on new ways to educate students or supporting students and families through a pandemic and history-making flood, Craig is a leader for the ages. We are so proud to have him representing our state with this honor." Carmoney's nomination for the award included input and support from staff, students, local leaders, and colleagues across the state. "Craig is a well-regarded mentor to teachers, administrators, and colleagues, actively supports colleagues partnering for student achievement, and has been instrumental in the success of his community through COVID-19 and a 500-year flood event this spring," said Jim Walter II, Superintendent of Clare Public Schools and the person who nominated Carmoney for the award. "As a friend in the same position in a neighboring district, Craig has been instrumental in my learning curve success as a superintendent. He is adept at allowing others to speak and cultivating everyone's opinion in a group as equally valued, but not afraid to call out a practice that may be wrong. Public education needs more leaders such as Mr. Craig Carmoney." Carmoney was named Superintendent of Meridian Public Schools in July of 2011. Meridian Public Schools is 21st Century school district that has partnered with the New Tech Network, Project Lead the Way, and Delta College to offer project-based learning, 1:1 technology, and early college for all students. Meridian is the only district in the state of Michigan to operate a full-school early college and partner with the New Tech Network to support K-12 project-based learning for every learner. Meridian Early College High School has been recognized annually since 2013 as a National Demonstration School by the New Tech Network. Carmoney has dedicated his career to ensuring that every child is given the opportunity and pathways to succeed in life, college, and careers in the 21st Century. Under his leadership, the first-year college completion rate at Meridian Public Schools has more than doubled to nearly 80 percent and its most recent graduation rate increased to more than 95 percent. Meridian students now earn more than 3,000 college credits per year – 30 times the amount of credits earned prior to Carmoney's tenure. "Meridian Public Schools have truly been transformed by Craig's vision and leadership," wrote Sharon Mortensen, President/CEO of the Midland Area Community Foundation in a letter of support for Carmoney's nomination. "As a superintendent, he is willing to challenge the status quo and look at things differently. He brought educational ideas that veered from a traditional approach and successfully implemented them in a rural district. I can think of no superintendent more deserving of this award than Craig Carmoney given his leadership during these most challenging of times." Carmoney holds a bachelor's degree from Grand Valley State University and a Master's in Educational Leadership from Saginaw Valley State University. He is also successfully completed the Michigan Leadership Institute Supes Academy, the Great Lakes Bay Alliance Leadership Program, and the Saginaw Valley State University Gerstacker Fellowship Program. Before coming to Meridian, Carmoney served as Middle School Principal and Assistant Superintendent for Bullock Creek Schools. He was also a classroom teacher in both Bullock Creek and Alpena Public Schools. Outside of his work in the district, Carmoney is an active and involved volunteer. He has served as a part of numerous national, statewide and local organizations, including MASA, the Michigan High School Athletic Association, the New Tech Network District Leadership Council, the Midland County Long-Term Disaster Recovery Committee, Sanford Area Chamber of Commerce, the Midland Business Alliance, the Midland County College Access Network Leadership Team, the Saginaw Valley State University External Advisory Team, the Greater Midland Area Community Center and the Midland County DARE Board of Directors. MASA's superintendent selection committee includes representatives from Michigan's various education stakeholders, including superintendents, school boards, principals, and teachers. The committee selected Carmoney from a pool of highly qualified nominees from across the state As the MASA honoree, Carmoney is now in the running for the national Superintendent of the Year Award from the American Association of School Administrators (AASA). AASA will convene a Blue-Ribbon Selection Committee to select four national finalists in December. The four finalists will participate in a national briefing and interviews in January at the National Press Club in Washington, D.C. The National Superintendent of the Year winner will be announced in February at the AASA National Conference on Education, where all state winners are recognized as well. In addition, Carmoney will be formally recognized at MASA's 2021 Midwinter Conference in January.
Calling your child's school? To reach the main office, call the numbers below: Meridian Early College High School: 989-687-3300 Meridian Junior High School: 989-687-3360 Meridian Elementary School: 989-687-3500 Meridian Early Childhood Center: 989-687-3455 Meridian Transportation: 989-687-3249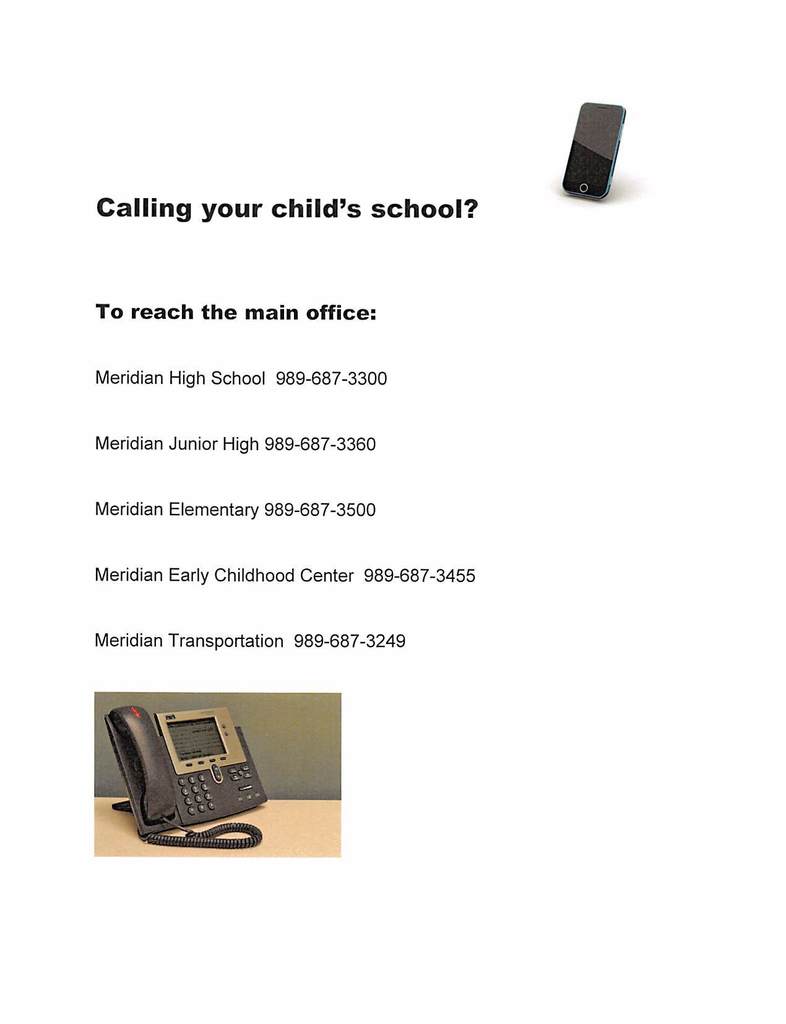 15 minutes until our first installment of Mustang Football Friends bedtime story. Tonight's feature reader is Meridian Varsity Offensive Line and Defensive End, Tristan Martin. Join us at 7PM on the Meridian Public Schools facebook page to hear him read "Ten Thank-You Letters" by Daniel Kirk.