July 15, 2020 Dear Meridian Mustang Families: The last few months have been very difficult for our community as we have faced the challenges of both COVID-19 and dam failure. No one could have predicted either of these events or provided guidance on how schools, families, and communities should respond. We are now asked to tackle the task of rebuilding our community and coming up with plans to return to learning this fall. There is still a tremendous amount of uncertainty as we head into the 2020-2021 school year. We face additional uncertainty due to the potential loss of students as a result of the flood and the certain loss of state funding due to COVID-19 that may result in historically large cuts in school funding. Fortunately, we are well-positioned to overcome these challenges. We will continue to support our students with one-to-one technology, provide free internet services, and be a statewide leader in education. On June 30th, the Return to School Advisory Council issued the 2020-21 Return to School Roadmap. The Roadmap provides schools with requirements and recommendations for returning to school depending on which MI Safe Start Phase the region is in (currently Phase 4). · Phases 1-3-Schools are closed for in-person instruction · Phase 4-In-person instruction is permitted with required safety protocols · Phase 5-In-person instruction with minimal safety protocols Schools are required to develop plans for each of these three phases which must be approved by the Board of Education by August 17, 2020. Superintendents have agreed to work cooperatively, and in consultation with county health department officials, to develop common plans. Those plans will include in-person instruction, a hybrid model, and virtual learning options. Meridian Public Schools will do everything in our power to return to in-person instruction in the fall with appropriate safety protocols. We know that this is the best option for learning. After what this community has endured, we know that our students need to return to school and have a sense of normalcy. They need to be surrounded by the familiar faces of their classmates and teachers. We know that many of our children are still suffering from trauma as a result of our community tragedy. School and normalcy is more important than ever for these children. We will also be offering a hybrid model in the event that we move between phases or are required to close due to illness or other issues that are outside of our control. The hybrid model will be similar to what occurred this spring. This will allow us the best return to in-person instruction with the least amount of interruption. The last option that we will be offering is a virtual learning option. This will be a K-12 available to all children. We will be hosting a virtual webinar on August 4, 2020, for those who are interested in learning more about this option. The registration link is:
https://tinyurl.com/merpsvirtual
There is still a lot of work and planning that will occur over the next few weeks, so more detailed information will be coming. Please know that many of the choices will not be within the control of local schools and both public and private schools within each region will be required to follow the Return to School Roadmap. Educating our children will bring us new challenges in the upcoming months, but the Meridian staff will ensure that learning and safety are always the priorities. Sincerely, Craig D. Carmoney
The Sanford-Meridian Flood Relief Fund was designed to assist our students and their families affected by the recent flood. The Sanford-Meridian Disaster Relief Committee consists of several community members and agency representatives. Together the committee is working to distribute resources to residents in the Sanford-Meridian community whose livelihood and primary homes have been impacted by the 2020 flood and dam breach. The information you provide will be reviewed and used by the committee to help distribute financial support by means of a $500 in-store voucher for eligible primary households in the Sanford-Meridian community. Applications are due by Wednesday, June 24th at 3 PM. Applications can be submitted at
https://bit.ly/merpsrelief
Looking to donate to the flood relief fund? Donations are accepted at bit.ly/merpsefunds PLEASE NOTE: SUBMIT ONLY ONE APPLICATION PER HOUSEHOLD.
Congratulations to the following Meridian Early College 4-Year & 5th Year Students who will be receiving their Associates Degrees from Delta College on June 20th in a Cruise-In Commencement: Cassidy Forbes, Alan Yaroch, Serena Chase, Sydney Clever, Aubrey Erskine, Brooklyn Kelly, and Audrey Kielpinski! We are so proud of you!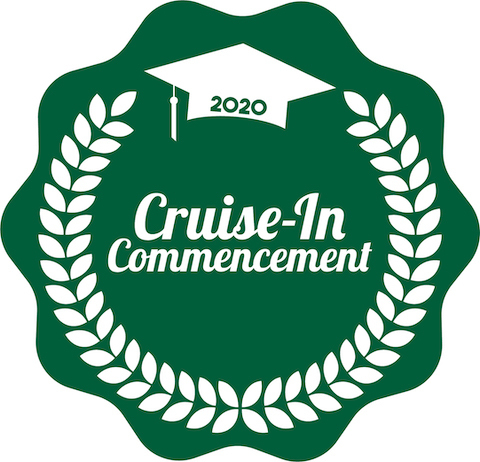 MECHS Class of 2020 Senior-Send Off Parade is scheduled for TODAY, Thursday, June 4, 7PM, at Meridian Public Schools. At 8:20PM, for 78 minutes, Senior Night Lights will wrap up this celebration. 1 minute in recognition for every MECHS Class of 2020 member! With current COVID-19 restrictions of groups larger than 100, your support is requested in ensuing we adhere to social distancing guidelines by remaining in your car or shining your porch light in support of these individuals. If you must leave your car, please maintain social distancing requirements and show support from designated community/family zones noted on the map below. ​ Check out the Class of 2020 banners on M-30 connector bridge. These serve as a bright spot with all of the significant challenges facing our community. A formal graduation is scheduled for Friday, August 7, 7PM at Meridian Football Stadium.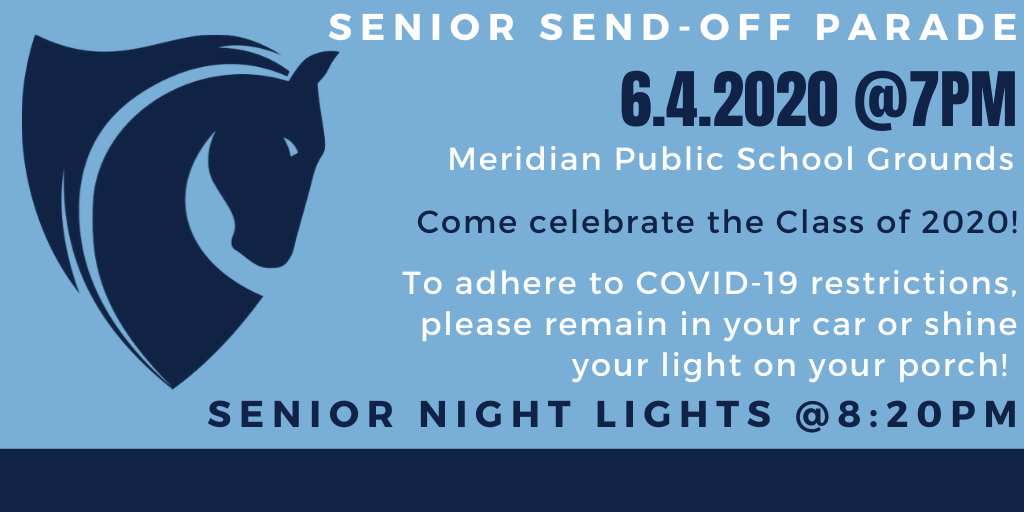 Class of 2024: Please join us TONIGHT Wednesday, June 3rd, 6 PM, to discover why MECHS is "not your average school" in the comfort of your own home. To attend, simply register HERE :
https://tinyurl.com/nacho2024
MECHS staff and guests will explore the opportunities available to 9th grade students at Meridian Early College High School. Topics include: Unique opportunities available to MECHS students Technology and support Course offerings College and Vocational Options Student/Faculty panel Club/Athletics overview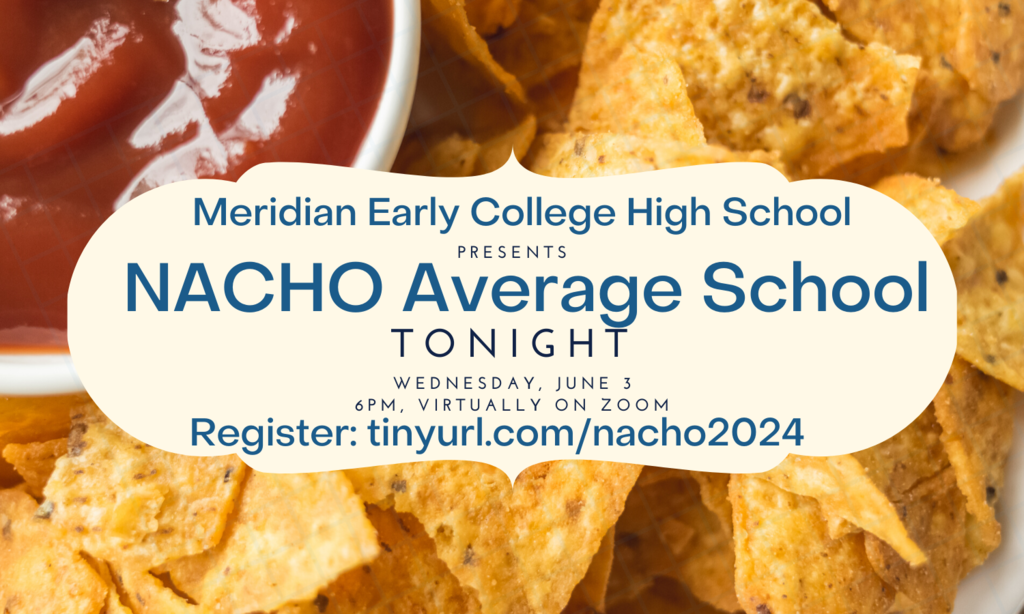 Public Service Announcement The Midland County Health Department is conducting additional shot clinics for Hepatitis A and Tetanus. Wednesday, June 3rd 10am – 3pm Meridian Public Schools Admin Building Friday, June 5th 10am-3pm Jerome Fire Station (Irish St)
Goods, Food, and Supplies still available at Meridian Elementary and Sanford Senior Center TODAY! Large trash bins, fans, cleaning buckets and much more for FREE until 4PM TODAY, Sunday, May 30. A huge thanks to the volunteers for supporting our community this weekend. #sanfordstrong
Meridian Public Schools would like to extend sincere appreciation to all who donated to support our local flood victims. Through your generosity, over 900 people have been helped since Friday, May 22. This grass roots effort resulted in 6 days, 1000+ items collected, and over 900+ people supported. Thank you to all who were able to help. #sanfordstrong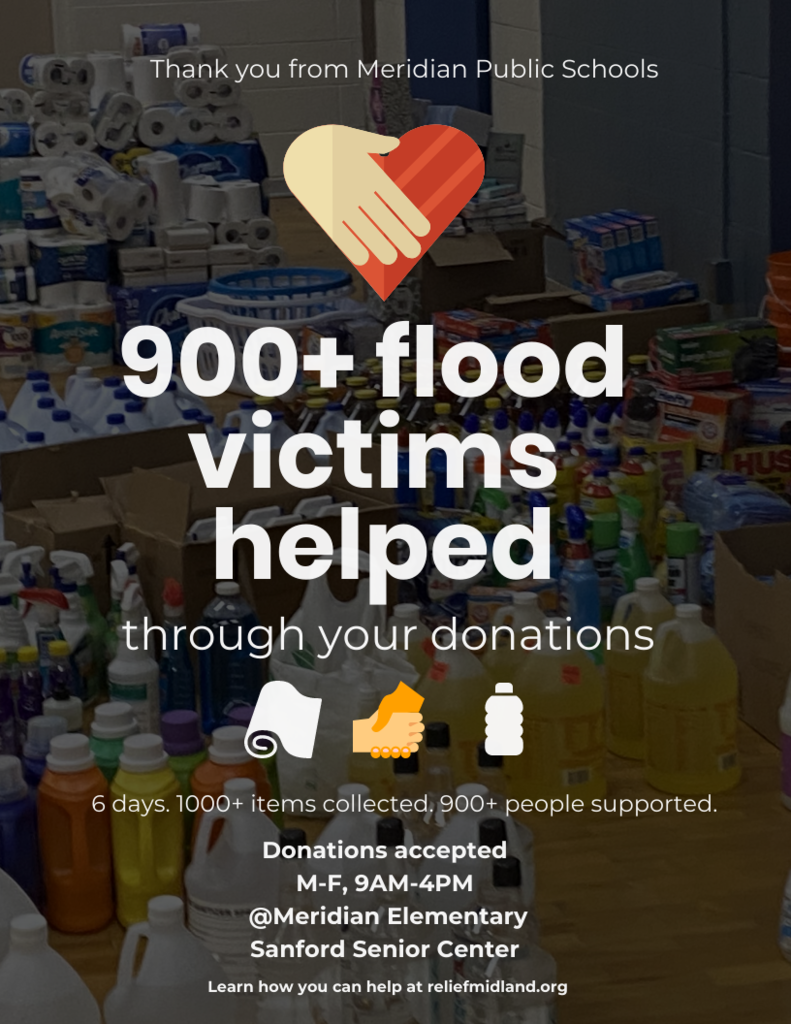 Public Service Announcement The Midland Country Health Department is hosting a shot clinic tomorrow for hepatitis A and tetanus from 10:00-3:00. The tent will be set up near the Administration Building on campus. Another clinic will take place on Monday at the Jerome Township Fire Department. All those involved in cleanup efforts are strongly encouraged to make sure that they are up to date on those vaccines. The United States Post Office now has a mobile unit on campus at Meridian Jr High School. It is expected to be open next week and further information will be communicated as soon as those details are known.
This is an update on the remainder of the school year. We know that many of our students and families are not currently able to participate in learning at this time and we have staff members who are in the same position. With that said, we still have requirements from the state that we must meet, so in order to be in compliance, we will resume learning on May 28th for those that are able. Based on our most recent survey, we understand that many will not be able to do so and that is both understandable and okay if you are not able to participate for any reason. Learning is certainly way down the priority list for a good portion of the families in this community.
Class of 2024 NACHO night virtual meeting has been postponed until WEDNESDAY, June 3rd, due to ongoing power and restoration efforts within our community. Register tiny.url/nacho2024. You do NOT need to register if you have already done so. Thank you for your continued patience and support.
01 J Boyer LH Digital CONTACT: Selina Tisdale, City of Midland Public Information Officer Bridgette Gransden, County of Midland Public Information Officer PHONE: City PIO: 989-633-1014 County PIO: 989-633-1015 DATE: May 26, 2020, 5 p.m. Midland County Damage Assessment Teams Collecting Data; Beware of Scams Related to Flood Restoration Damage assessment teams working with the Midland County Operations Center (EOC) are currently canvassing areas of Midland County to assess flood damage and assist property owners with completing the Midland County Flood Damage Assessment Tool. These teams will ask property owners questions related to their flood damages only and will not require or ask you to sign documents or provide as part of their data collection process. Team members will be wearing high-visibility vests and will not ask for any personal identification information such as social security numbers, household income, or birthdates. These individuals are volunteers working in coordination with the Midland County Emergency Operations Center (EOC) and are not affiliated with the Federal Emergency Management Agency (FEMA). Securing state and federal assistance is a detailed process that begins with in-depth damage assessment at the local level. In order to provide a clear picture of the horrific devastation in this community to the state and federal governments, it is critical that every residential, business and non-profit property sustaining flood damage complete the Midland County Flood Damage Assessment. FEMA will not be directly involved until a presidential disaster declaration has been issued. Residents should not attempt to contact FEMA directly regarding their flood damages Residents should visit the Flood Damage Assessment Tool link at the following locations: · Top of the County of Midland website:
www.co.midland.mi.us
· Top of the City of Midland website:
www.cityofmidlandmi.gov
· On the Midland County 911 website:
www.midland911.org
· Via the direct link:
https://arcg.is/1H00aG
· By calling 2-1-1 for those without internet access Some residents have reported being contacted by individuals identifying themselves as government representatives or private contractors asking for personal identification information. These individuals are not affiliated with FEMA or any Midland County Residents are cautioned to be mindful of scams and should be aware when from agencies you're not familiar with that want to sell you restoration or flood-related services. Do not be pressured into signing any documents or paying up-front costs for services that will be provided at a later date. Please continue to monitor updates and conditions via the following resources:
www.midland911.org
www.cityofmidlandmi.gov
Facebook channels for the following entities: Midland County Emergency Management (MI) Midland County 911 City of Midland, Michigan – Municipal Government Twitter: @CityofMidlandMI Twitter: @MidlandCountyMI Call 2-1-1 Sign up for 911 text and email alerts through Nixle.com ### END ### Katie Guyer, CPM Communications Coordinator City of Midland 333 W. Ellsworth Street, Midland, MI 48640 989.837.3307 | cityofmidlandmi.gov
Good Evening Mustang Community, Here is the latest information that I have to share. Today was certainly a little slower with calls for assistance and the number of volunteers in the community. This is certainly understandable as many have returned to work and hopefully we are finally starting to catch up with some of the demand. That being said, there is still a need for more volunteer assistance. Many places still need assistance with demo work and trash removal. It is recommended that debris be bagged to the extent possible and that metal and appliances be separated from the other debris. That makes the job of trash removal and running to the dump for volunteers much more efficient. We are finally at the point where United Way and Dow Chemical are taking over the call center, volunteer check-in at the Sanford Pharmacy, and the donation and distribution center at Meridian Elementary School. Another Donation and Distribution Center will operate at the Sanford Senior Center on West River Road. Our call center will now redirect callers to the 211 number for the community. We are very grateful for their support and this will allow our staff time to regroup and plan for the end of the school year. Speaking of the end of the school year. We sent a survey out to our families and staff to help assist us with that planning. It can be found here:
https://docs.google.com/forms/d/e/1FAIpQLSdx0jO7D7i-zLUjFi849xkPkK6U21-k-oJJfi7IfRZGAar6SQ/viewform?vc=0&c=0&w=1Hi
Friends, The School Food Service Program will begin again this Thursday. We once again need families to sign back up as we truly do not know the number of families can get to the school, how many have homes, power, or the ability to store the items at this time. Here is that link. Summer Meal Program Sign Up bit.ly/summermeals1 Internet Access is available at Meridian High School during normal business hours. It is set up in a way that will allow for social distancing. We are also working on laundry services for the community. We were contacted about setting this up and have offered space and resources. As soon as we have confirmation we will share out that information. The United States Post Office has also been authorized to set up a mobile location on our campus until repairs can be made to their facility in the Village. There is also help on the way in terms of debris and trash collection by the county. This is separate from your normal trash program. This should be making its way into the community later this week. I promise that the school district is not going to abandon the community during this crisis. We will continue to monitor the situation and needs and respond accordingly. We will also advocate for assistance on your behalf as we tell our story and communicate our needs. The message below is from the Midland County United Way. We appreciate their support as we recover from this tragedy. Regards, Craig Carmoney While this is probably one of our toughest chapters, there is good happening every day. We know you and those you serve must have many questions and we want to keep you in the loop as information continues to emerge. As we all work together to press forward, our team at United Way wants to walk alongside you. If you'd like to request volunteer assistance, please complete United Way's volunteer request form. We will then contact you to confirm details. Our team will post your opportunity on our online portal and communicate it to the public so people can easily register. We've also added an FAQ section to our Flood Resources page. This will be updated frequently to ensure you have access to accurate information. Feel free to refer to this site for helpful answers to common questions. You can also visit reliefmidland.org for additional disaster relief information and resources. To minimize questions and help spread the word, we encourage you to like and share United Way's social media posts. Thank you for all that you are doing. Your efforts matter—and they are making a huge difference.
Supplies, Food, Water, Aide Available TODAY, May 26, Meridian Elementary School 8AM-4PM.
Good Evening Mustang Families, First of all, this community deserves so much credit for how quickly it has responded in this time of crisis. So many from within and outside of this community have mobilized to support our community. This is the latest information that I have to share with you and I apologize for any confusion. We are trying to provide accurate communication, but there are times when the information changes. There is a lot of confusion over where things stand with FEMA. At this point, the President has declared an EMERGENCY for this area. Unfortunately, until there is a DISASTER declaration in this area, no FEMA relief will be provided. The teams that are in the area are from Midland County Emergency Management and they are taking flood damage reports. Please use the Flood Damage Tool:
https://arcg.is/1H00aG
Midland County Emergency Management has also provided information on proper documentation prior to demolition or restoration projects. You are advised to use written documentation, receipts, photos, and videos. Meridian Public Schools virtual learning is still suspended. We will meet tomorrow to evaluate the situation in our area and provide information to our students and families on when things will resume. We understand that many families and staff have been impacted by this disaster. Your school district has focused its efforts over the last several days on providing relief to this area. Many of us were on Ground Zero on day one or hearing from our community about our needs and responded as quickly as we could. Some of our early efforts were a bit disorganized, but done with the best intentions. At this point, our systems are greatly improved. We have: · set up a donation and distribution center at Meridian Elementary School that is being run by staff and volunteers. · Setup a call center to collect information fromresidents and businesses in need of assistance. · Provided buses to runvolunteers to businesses and residences that are in need of assistance toeliminate congestion. · Provided assistance to four volunteercheck-in centers in the community to coordinate volunteers. Manythanks to our students, staff and volunteers who have made this all possible. We are hoping to hand off many of these tasks to other local agencies in the near future. In the last two days, more than 400 volunteers got dispersed to several locations throughout the greater Sanford Area. We continue to work with county officials to coordinate other efforts such as providing internet access at Meridian High School. I'm hopeful that another major community service announcement in partnership with Meridian Public Schools will occur soon. We are happy to provide our campus and resources to serve this great community to support our students and families. Regards, Craig Carmoney See Below for information form Midland County Emergency Management Teams from Midland County Emergency Management are out in the communities taking flood damage reports. More than 1200 damage assessments have already been submitted for the area. Keep up the great work until we get them all in! Damage assessment teams from the county are assisting areas with limited internet and phone access. As a business, individual, or non-profit organization that has sustained any damage or loss as a result of the flood, please visit the Flood Damage Assessment Tool link at the following locations: · Top of the County of Midland website:
www.co.midland.mi.us
· Top of the City of Midland website:
www.cityofmidlandmi.gov
· Via the direct link:
https://arcg.is/1H00aG
Residents and businesses are reminded to thoroughly document damage prior to demolition and restoration projects using written documentation, receipts, photos, and videos. This step is extremely important to assist in possibly receiving federal funding for Midland County. Once you click the link, you will be directed to a map. Enter the property address and search for the damaged property. When the property is found, a pop-up box will appear. Click the link "Click here to fill out a damage report" to be directed to the online form to report flood damage. The form takes approximately 5 – 10 minutes to complete and includes a section to provide photos of flood damage. If you do not have access to the internet, please contact 2-1-1 for assistance in completing the form. Volunteer Information All volunteers wanting to assist with flood cleanup in the greater Sanford area should report each day to one of three volunteer check-in locations: Sanford Family Pharmacy parking lot, 28 West Saginaw Road; Cleft of the Rock Church on West River Road, or at the intersection of W. Center and Oak streets. Volunteer check-in sites are open every day from 8:30 a.m.- 3 p.m. Debris Disposal Information The Midland Sanitary Landfill will be open to residential customers from 8:00 a.m. – 6 p.m. on Sunday, May 24 and Monday, May 25 to dispose of trash, flood debris, and yard waste. The Landfill will then resume its regular operating hours, open Monday through Friday from 8 a.m. – 4 p.m. and Saturday from 8 a.m. – 4 p.m. Customers accessing the Landfill will be required to show proof of Midland County residency. Debris generated outside of Midland County will not be accepted. Due to the high anticipated volume of customers accessing the Landfill, wait times may be significant. The Village of Sanford has dumpsters available downtown and volunteers available to assist with removal of items from residents' vehicles. Curbside collection of flood debris will also be provided for village residents. Residents with flood debris should place their items at the curb for collection. Residents in other areas of Midland County should take flood debris and other items to the Midland Sanitary Landfill for disposal. Please continue to monitor updates and conditions via the following resources:
www.midland911.org
www.cityofmidlandmi.gov
Facebook channels for the following entities: Midland County Emergency Management (MI) Midland County 911 City of Midland, Michigan – Municipal Government Twitter: @CityofMidlandMI Twitter: @MidlandCountyMI Call 2-1-1 Sign up for 911 text and email alerts through Nixle.com
We are going to be restarting our food program effective Thursday May 28th. We will no longer be offering delivery due to the current road conditions, we apologize for the inconvenience this may cause. Please complete this new form even if you have signed up in the past. Summer Meal Program Sign Up bit.ly/summermeals1 We have new times and locations to choose from; this form must be completed by Wednesday noon to be eligible to pick up 7 days worth of meals on Thursday, the 28th. Thank you for your understanding and patience as we get started up again.
Impacted or helping with flood relief efforts? @DwynesDreamTeam is offering a drive-through Jambalaya dinner tonight at 6pm at @MeridianJuniorHigh and a gumbo lunch tomorrow at 12pm at @CleftoftheRock. Thanks to @UnitedWayofMidlandCounty for connecting us with them. #LiveUnited #SanfordStrong
Supplies, Food, Water, Aide Available TOMORROW, Mon., May 25, 12, noon to 2PM at Sanford Elementary Early Childhood Center AND Meridian Elementary School 8AM-4PM.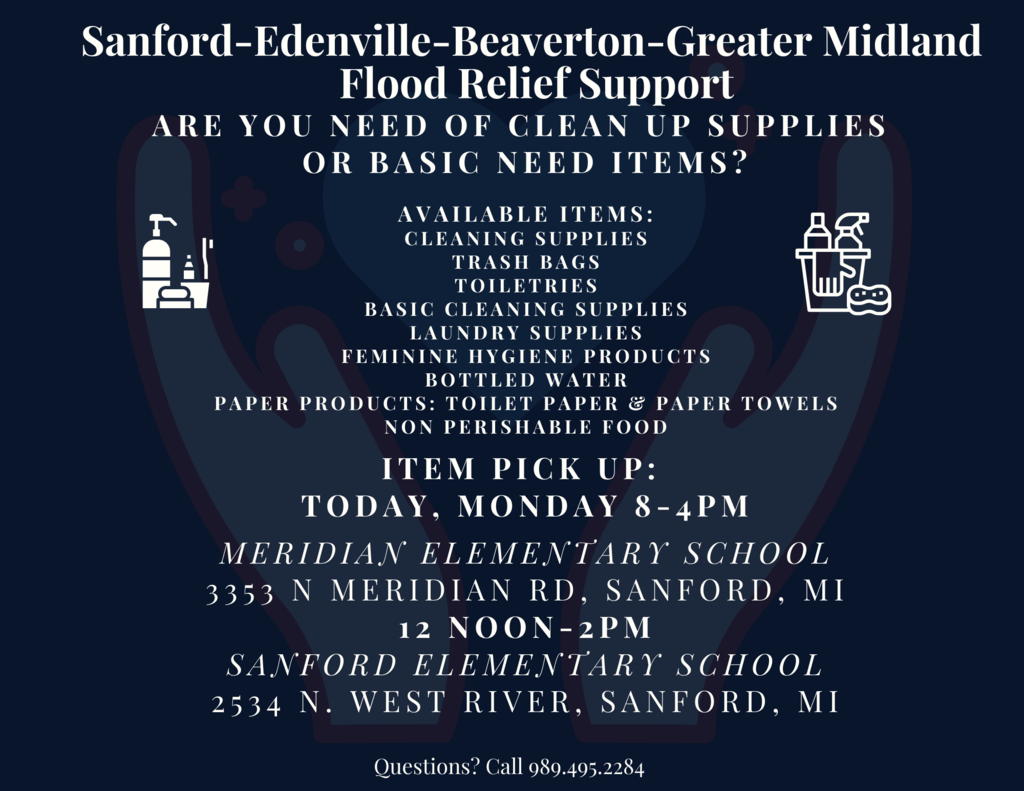 Help Sanford-Edenville-Beaverton-Greater Midland Area Clean Up All volunteers looking to assist with the flood cleanup in Sanford, Edenville, and Beaverton areas should report to the United Way volunteer check in center everyday between 9AM-4PM. Volunteers will be given a cleanup site to fit their time, ability and focus! Additional volunteer check in locations have been added to support the impacted surrounding communities. New Check in locations: Meridian Elementary School 3353 N. Meridian Rd Sanford, MI Cleft of the Rock Church 2575 N. W. River Rd Sanford, MI Village of Sanford locations: 28 W. Saginaw Road Sanford, MI Intersection of Center and Oak Want to help but not sure where to go? Need information on how to help? Text UWS to 31996 to receive information on where to volunteer and resources available!
Supplies, Food, Water, Aide Available TOMORROW, Mon., May 25, 12, noon to 2PM at Sanford Elementary Early Childhood Center AND Meridian Elementary School 8AM-4PM.