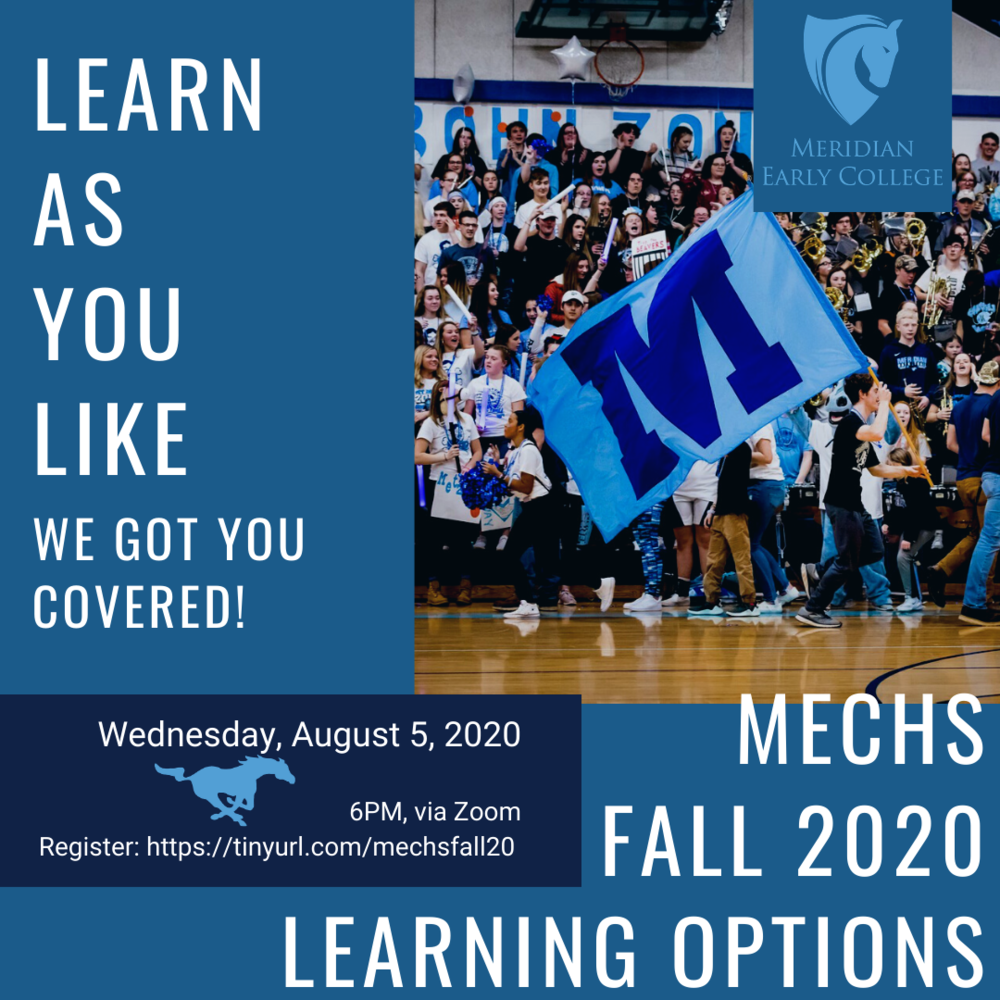 20-21 School Start Update
Tara Mager
Wednesday, July 29, 2020
July 28, 2020
Dear MECHS Families,
Our district is in the process of developing plans for a safe and academically rich return to school in the fall. A team, including parents, students, faculty, and staff, has been assembled that is working through different return to school scenarios and how to best serve our students and families. We are planning for what our school days will look like, how we will deliver instruction, feed and transport students and most of all ensure the safety and wellness of all of our students and staff.
Our return to school plan will be centered on students and to meet the needs of our families. We recognize that families may have concerns about sending their children to school. Our district is working to develop a number of instructional options to help families feel comfortable while their students continue to receive a rigorous education.
The different instructional scenarios for Meridian Early College High School include:
On campus, face-to-face learning, 5 days a week. This option is best for families & students looking to re engage safely in traditional schooling. Class sizes will be reduced to accommodate social distancing recommendations.
Hybrid (Face to Face + Remote Learning schedule for 11/12th graders)
Learners may select to take courses both remote and face to face. These courses are taught by MECHS staff. Students attend class(es) on an assigned day of the week and complete the other coursework through our digital online platform, ECHO, at home, with the support of MECHS instructors.
Enrolled K-12th grade learners can take courses completely online. Students will work directly with a MERPS teacher to provide academic tutoring via Zoom or our drop in center. If you are planning to enroll your child in our district's virtual program, students must register by August 14, 2020 here: tinyurl.com/merpsvirtualschool. For specific questions about Meridian Public Schools Virtual Learning Academy, please email tara.mager@merps.org . A webinar is scheduled on Tuesday, August 4, via Zoom to discuss this option. You can register for the webinar here: https://zoom.us/webinar/regist...
MECHS Return to Learning Fall draft plan will be shared on Wednesday, August 5, 6PM, through a Return to Learning Zoom webinar. During this event, we will outline the Return to Learning Plan, instructional options, and safety/operations procedures and ask for your feedback. This plan will also be emailed to families unable to attend. You can register for this webinar by visiting: https://zoom.us/webinar/regist.... The district and building plan will be pending approval from the Meridian Board of Education on Monday, August 17th.
As we continue moving forward, we will communicate regularly with you as we have more information to share. Keys Points of Communication include:
For most accurate information pertaining to our schools, visit our website at www.merps.org AND

Meridian Public Schools Facebook page;

Important messages will be sent via school messaging system AND

Email sent to the Parent/Guardian email listed in the Skyward Student Management system. Please contact help@merps.org if you need to change your email address on file to ensure you receive this information.
In the meantime, if you have any questions, please contact my office at 989.488.4662 or email tara.mager@merps.org. Thank you for entrusting us with the education and well-being of your children.
Warm Regards,
Tara Mager, MA, LPC, LBSW
Principal
PDF of information below with links