MECHS Winter break begins TOMORROW, Wednesday, Dec. 23, 11:20AM today! Make sure you check your ECHO agendas to submit assigned activities. MECHS faculty and staff is excited to see learners IN-PERSON on January 4th. Start 2021 safe and healthy!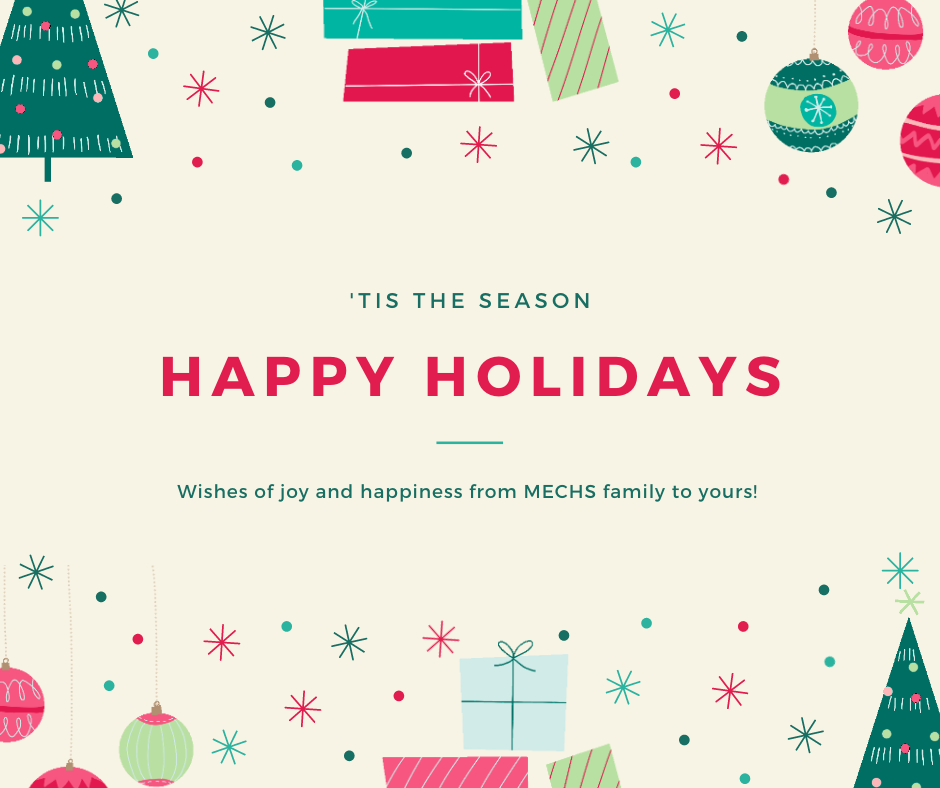 MECHS Learning Schedule: Dec. 21-Dec. 23rd! Winter break is scheduled from Thursday, Dec. 24-Sunday, Jan. 3rd. We look forward to seeing learners IN-PERSON on Monday, Jan. 4th!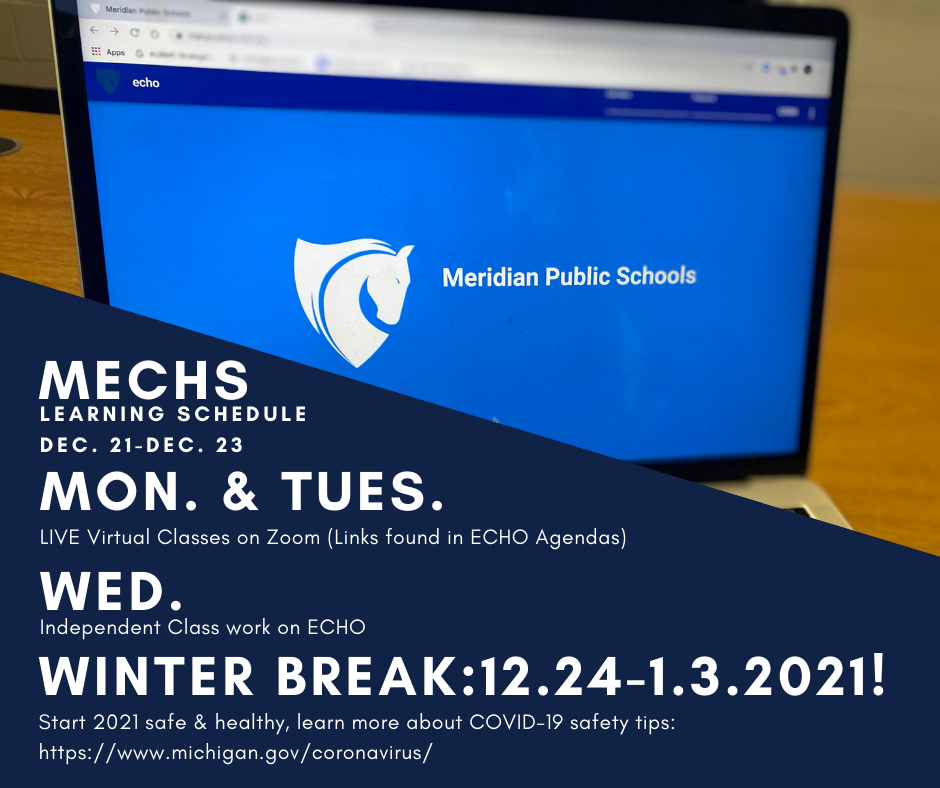 MECHS is grateful for the dedication of our learners. Hang in there! Only 6 more school days until Winter break! Check out tinyurl.com/mechsathome for helpful resources!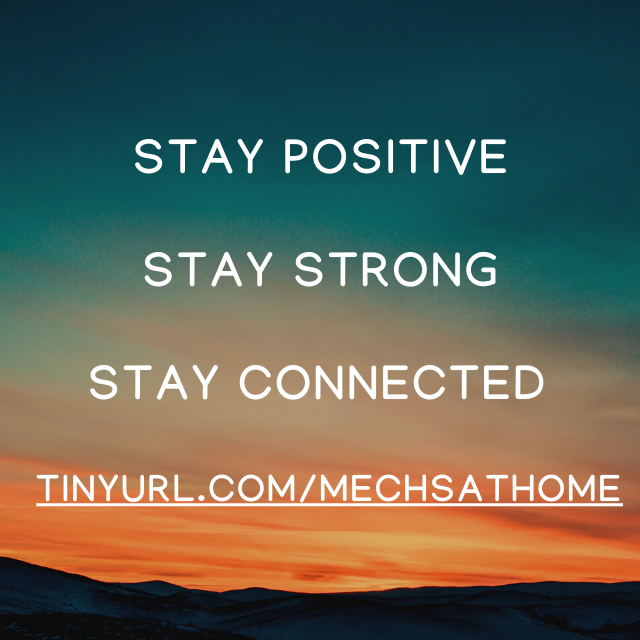 MECHS has the best team to support our learners! We extend our sincerest appreciation for all of your hard work!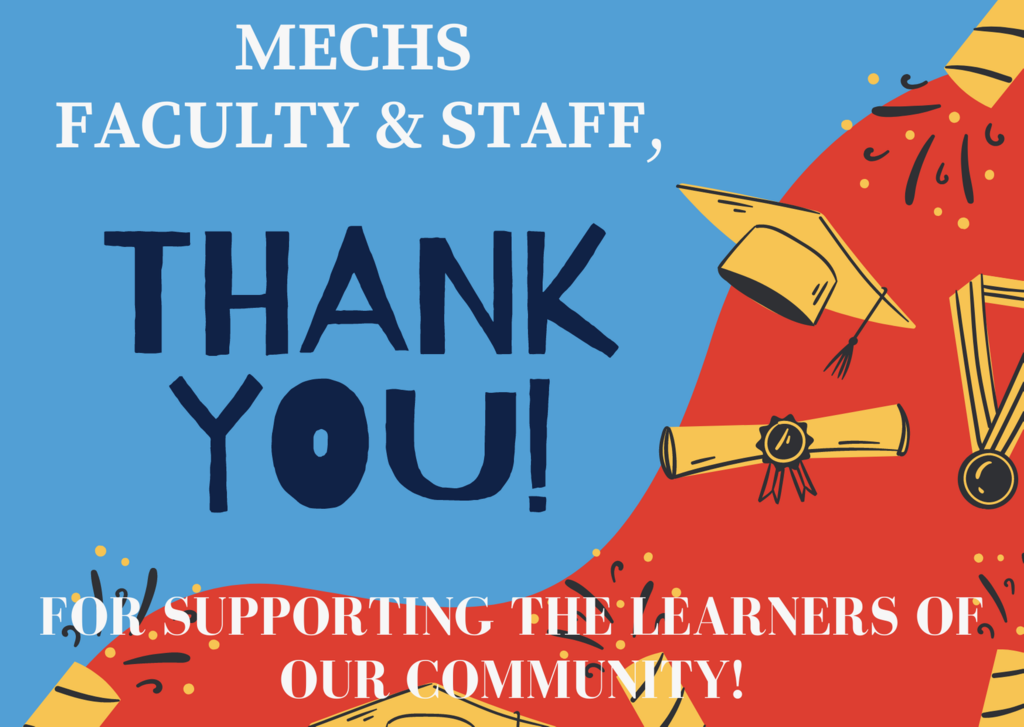 MECHS Learning Schedule Dec. 14-Dec. 18. 8 days of learning until winter break! We got this!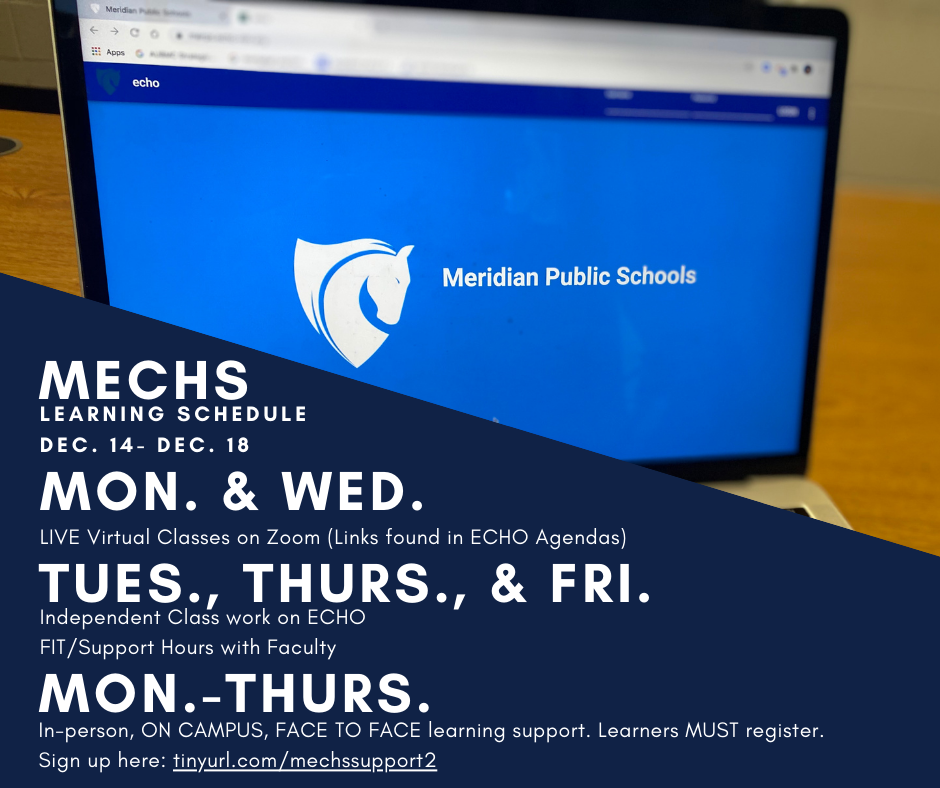 MECHS Loves OUR Teachers and Staff! Thank you to each and every member of the MECHS team that makes learning possible everyday!
MECHS wants to give a huge shout out our families! Thank you for your continued patience and support during remote learning!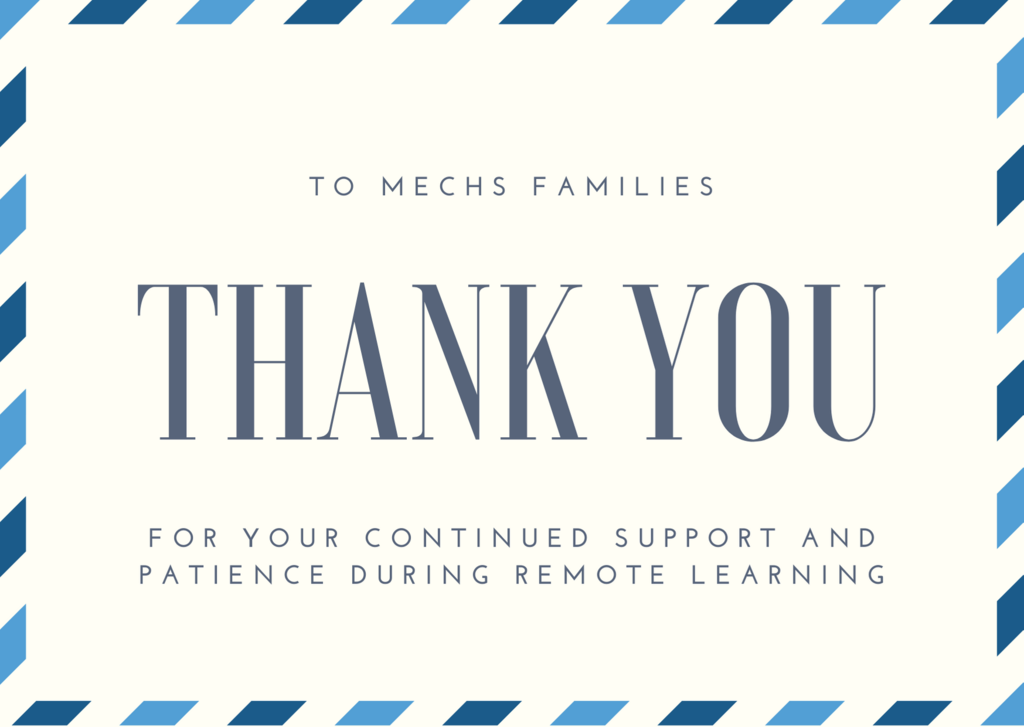 Learning at home can be tough. MECHS is here to help!
Are you struggling with remote learning? MECHS is offering in-person tutoring support, Monday-Thursday, 8AM-3PM, to learners in grades 9-12th. Sign up to attend: tinyurl.com/mechssupport2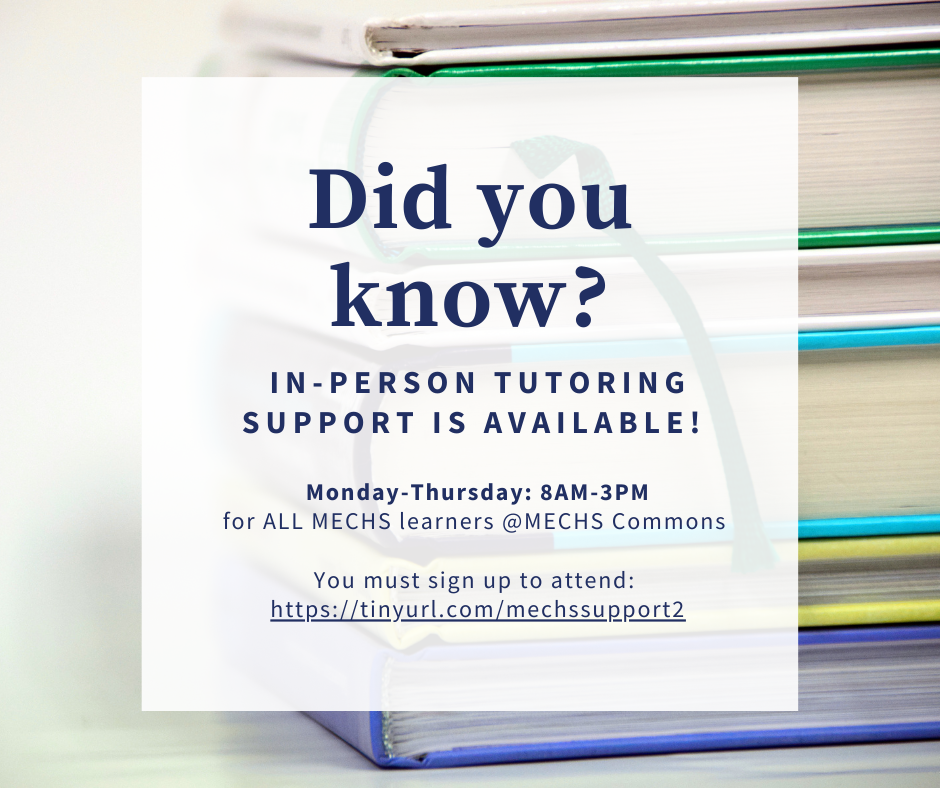 December 7, 2020 Dear Meridian Mustang Families: We learned this afternoon the Michigan Department of Health and Human Services issued an extension of the pause for in-person learning for students in grades 9-12 and the continued stoppage in all athletic activities until at least December 20th. As such, students in grades 9-12 will return for in-person learning on Monday, January 4th. As announced last week, students in grades K-8 will return to in-person learning on Wednesday, December 9th. In conversation with the Midland County Department of Public Health this afternoon, our 3-week trend in Midland County continues to show a downward trajectory in the positivity rate. Thankfully, the spread that is taking place in communities is not taking place within schools. To date, there have been six outbreaks in schools in the county that have impacted 26 people and none of those have occurred in Meridian. The schools in the county will continue to work side-by-side with the health department and will continue to be aggressive with the quarantine protocols that have been very effective in limiting the spread of COVID-19 in schools. The quarantine period will follow the latest CDC guidance of 10 days with a possible return on day 11. Your understanding is appreciated as we continue to make difficult decisions. Sincerely, Craig D. Carmoney
Mondays?!! MECHS learners, we got this!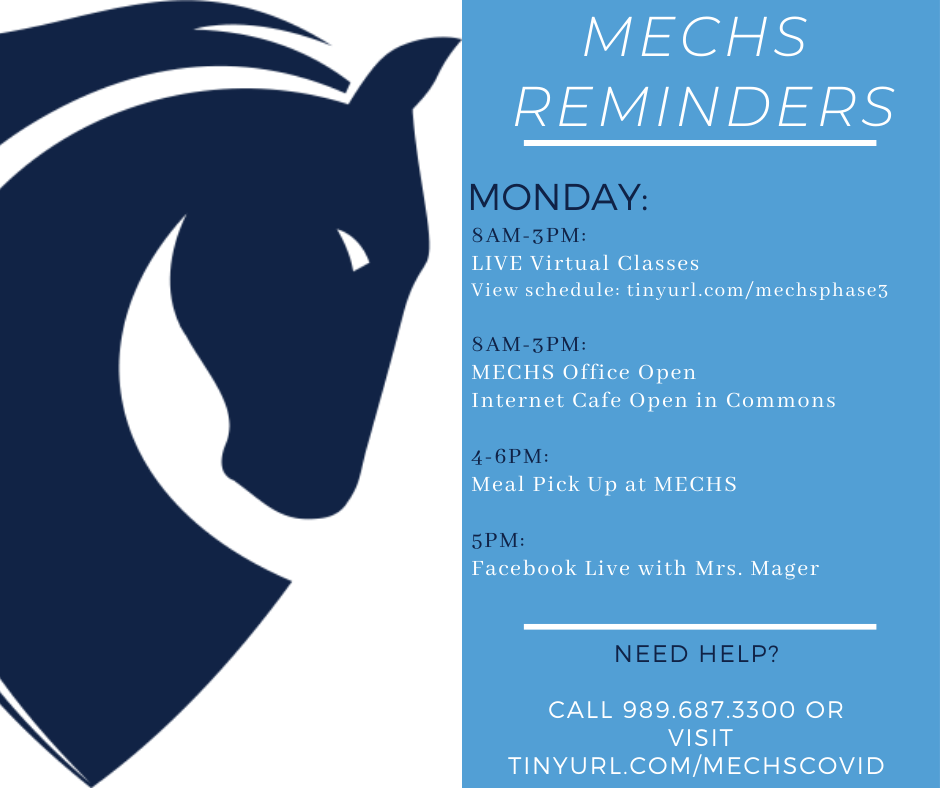 IN-PERSON LEARNING RESUMES WEDNESDAY, DECEMBER 9th: MECHS is excited to announce we will welcome back all face-to-face students to in-person learning on Wednesday, December 9th! Remote learning will continue through Tuesday, December 8th. Attendance is expected at LIVE Zoom sessions on Monday, December 7th, with ECHO independent learning on Tuesday, December 8th. While our plan is to return to in-person learning on Wednesday, December 9th, this date could change if the Department of Health and Human Services extends the current order which "paused" high school face-to-face learning on November 18th. Any communication regarding any calendar changes will be sent via email, website, Facebook, and a text message reminder. You can view the MECHS letter HERE:
https://docs.google.com/document/d/1Jpucw40wRxcKaISVVcD4ohDxMH6Qh44YoZlDw2BWEBU/edit?usp=sharing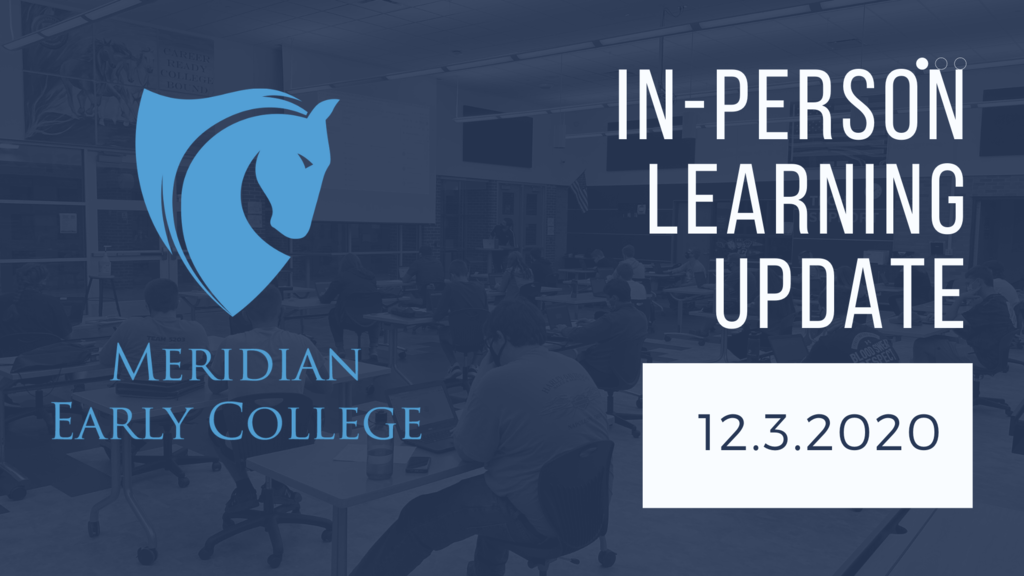 Learning at home can be challenging. Remember to set a schedule, build in breaks, and set a quiet space to work. MECHS is here to help! Make sure to check out tinyurl.com/mechsathome for resources.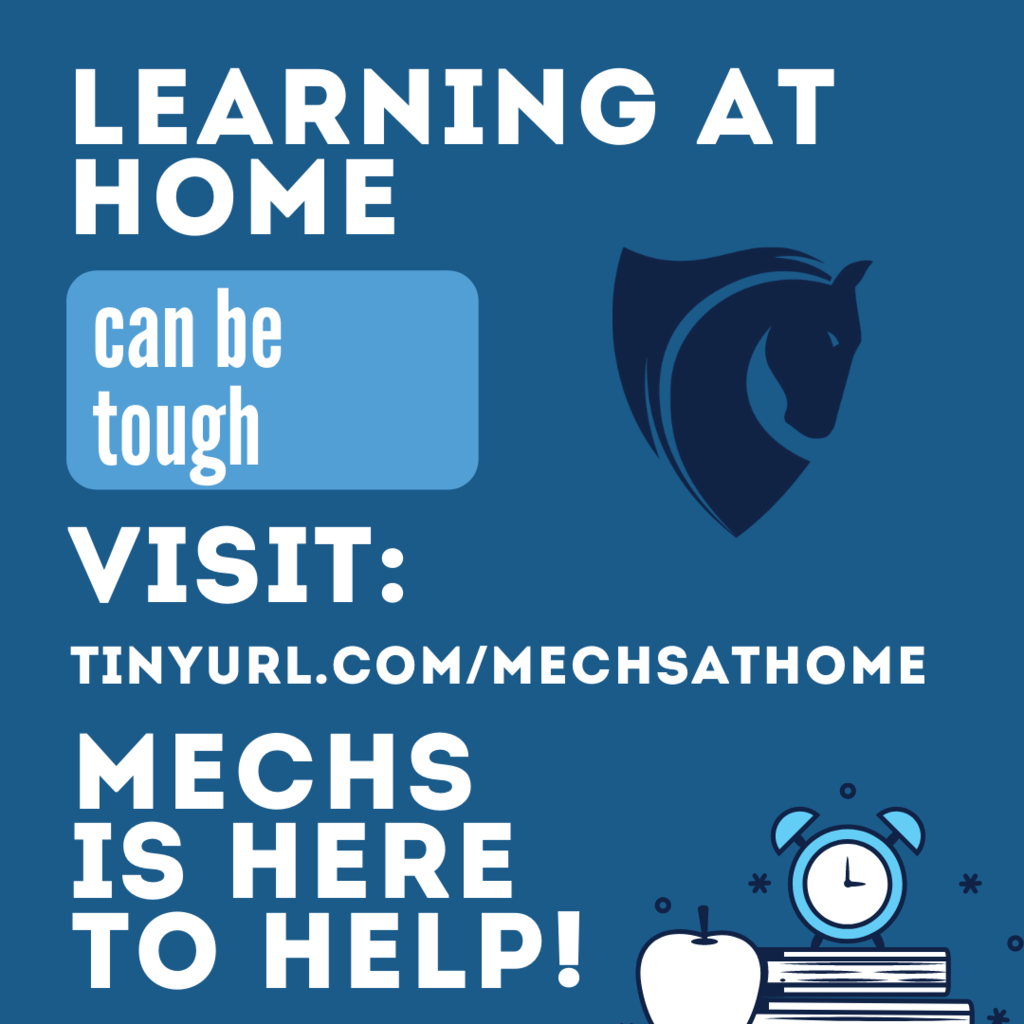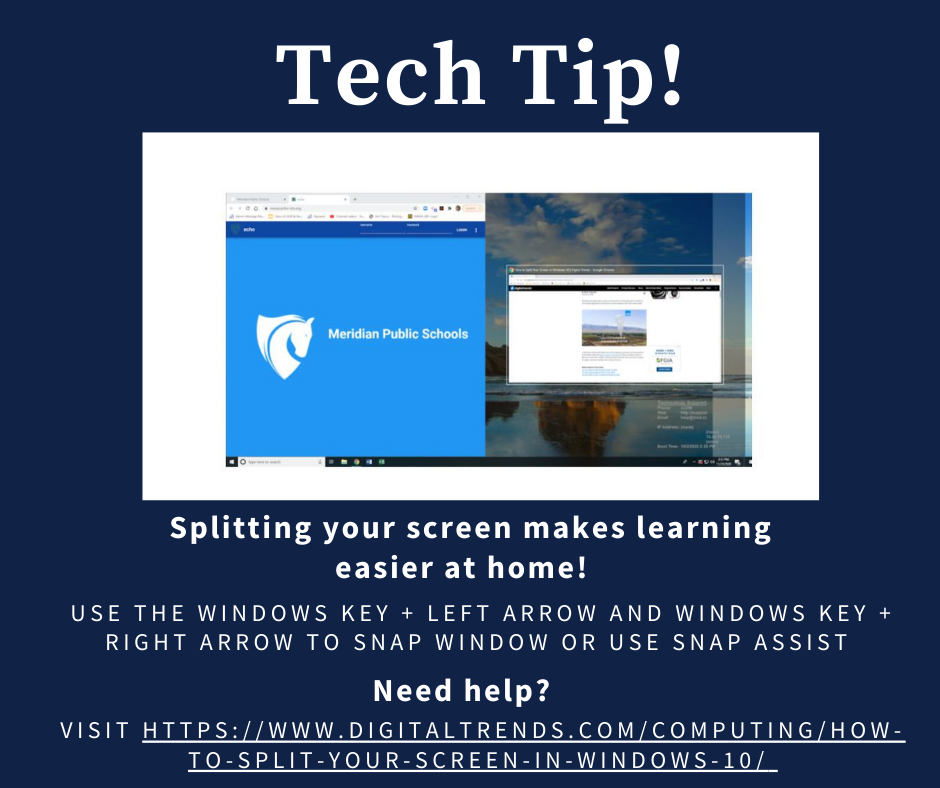 MECHS is ready for a great day of learning!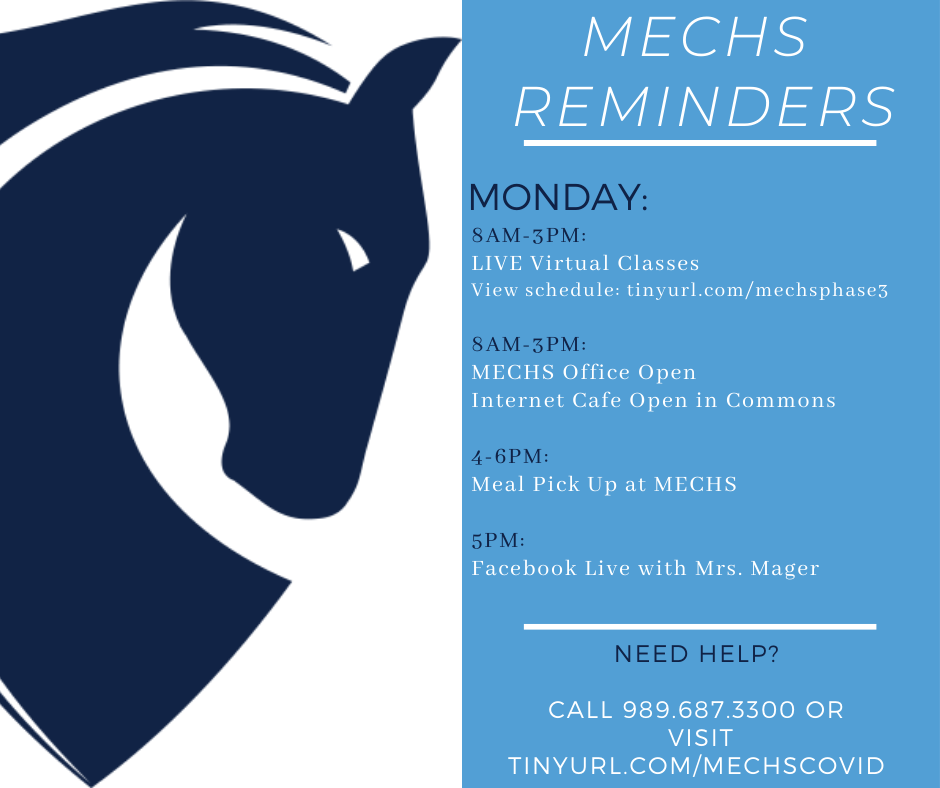 MECHS Learning Schedule, Nov. 30-Dec.4: Monday & Wednesday: LIVE Virtual Classes on Zoom. Find the schedule here: tinyurl.com/mechsphase3 Tues., Thurs., & Fri.: Independent Class work on ECHO FIT/Support hours with Faculty Mon-Thursday: MECHS Office Hours: 8AM-3PM, by appointment Internet Cafe: 8AM-3PM, in MECHS Commons. Free Wi-fi for any MECHS Learner.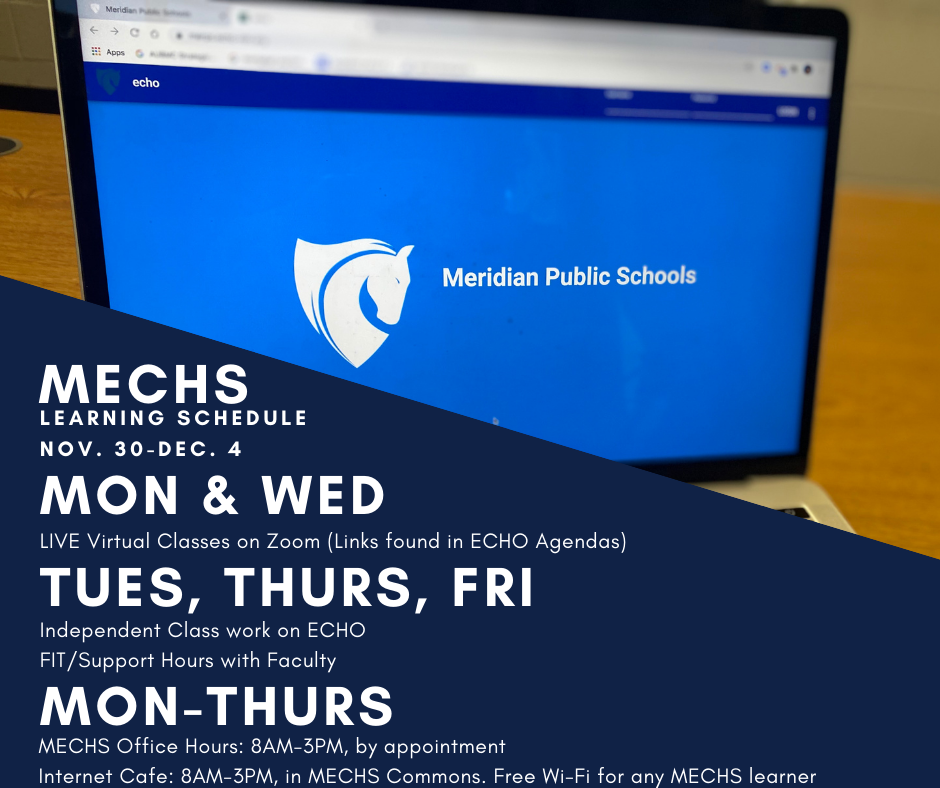 REMINDER: Thanksgiving break begins Wednesday, 11.25-11.27. Learning resumes on Monday, Nov. 30 via Zoom, LIVE sessions.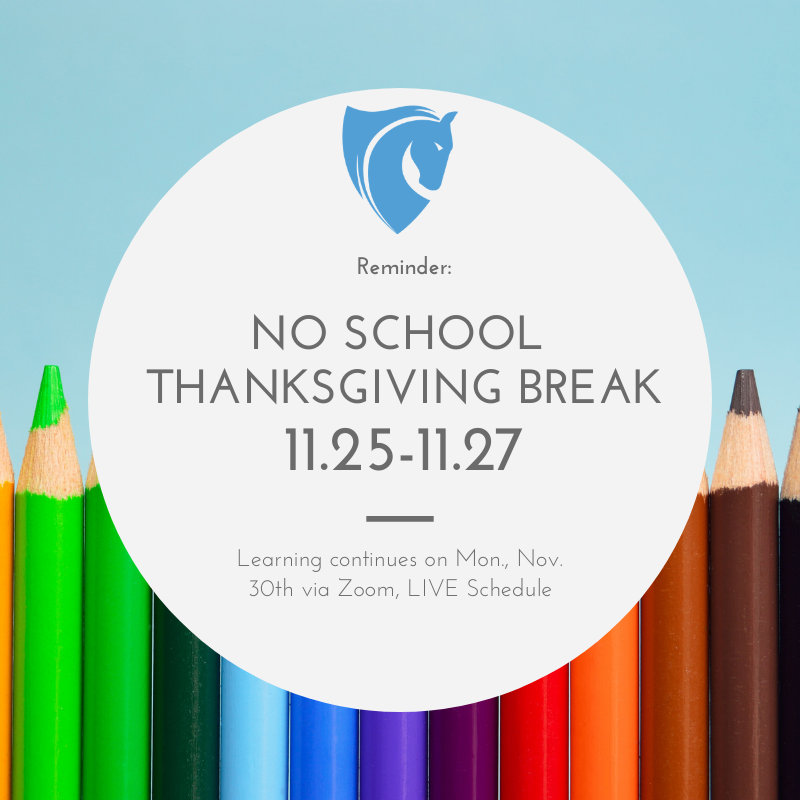 MECHS Learning Schedule for Nov. 23-Nov. 27th Monday: LIVE Virtual Class meetings. You can view the class schedule here:
https://tinyurl.com/mechsphase3
MECHS Meal Pick Up, 4-6PM Facebook Live with Mrs. Mager @5PM Tuesday: Independent Class work on ECHO Wednesday-Friday: No School, scheduled days off! Office is also closed on these dates. Internet Cafe is OPEN on Monday & Tuesday, 8AM-3PM this week in the MECHS Commons! We are in this together! Please reach out with questions! MECHS staff and faculty stands ready to help!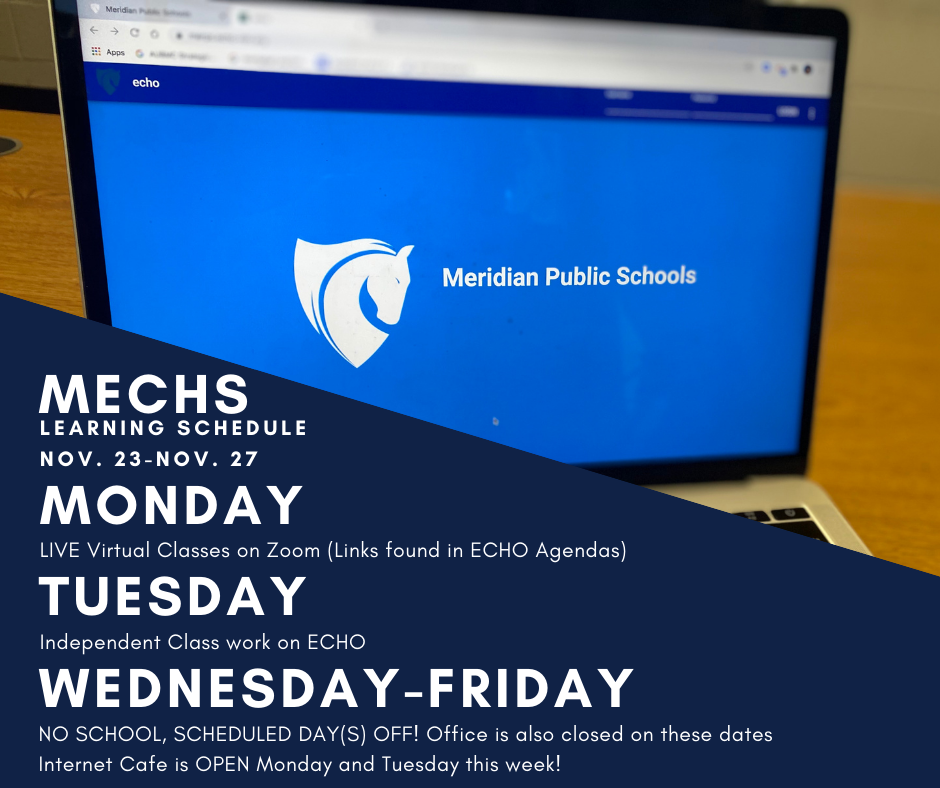 REMINDER: MECHS 1/2 day of learning TOMORROW, Fri., Nov. 13, is remote, at home. MECHS learners should check and complete activities on ECHO. All MECHS face to face learners are REQURED to attend a 10:30 LIVE Zoom Advisory meeting. Please check your ECHO Advisory agenda for this link.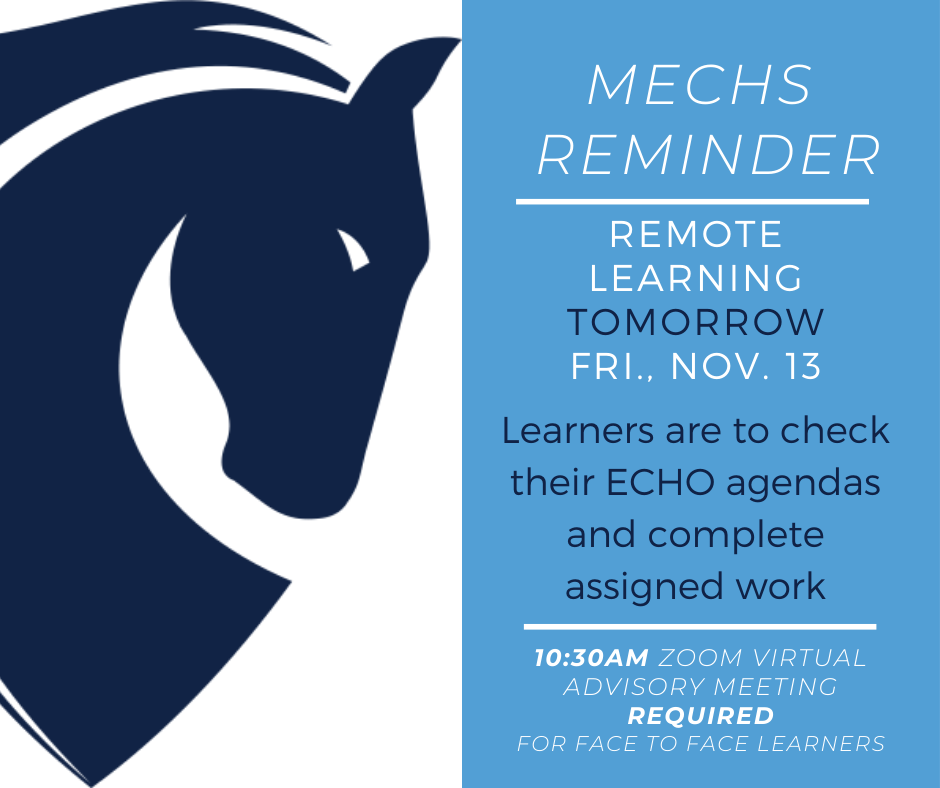 Today is for our heroes! #ReachHigher